A 22-year-old surfer has suffered a serious shark bite at Bombo Beach in Australia.
Brett Connellan was surfing around 7:15 pm today off the northern end of the Beach when the incident occurred.
The Kima Downs resident was around 109 yards (300M) off shore when the shark bit his thigh.
Connellan's friend Joel heard his screams and quickly paddled over to assist him.
Joel helped Connellan onto his surfboard and the two were assisted by a wave back into the beach.
Once they were back on the beach, Joel tied a tourniquet to the top of Connellan's thigh to help stop the bleeding.
Joel's girlfriend Agie and another off-duty nurse were able to assist Mr. Connellan until further help arrived.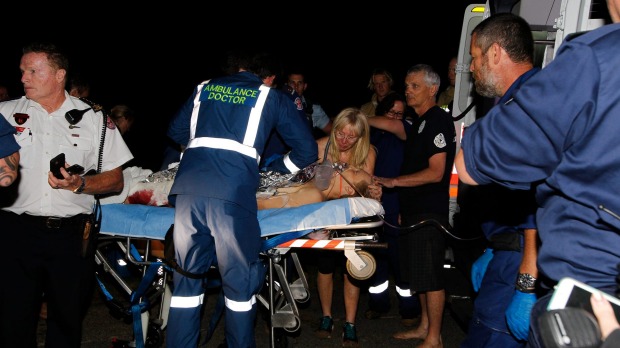 Once emergency personal arrived on scene with a helicopter, they gave Connellan a blood transfusion before transporting him to the St. George Hospital. The air service began carrying blood last year and has helped a number of other victims involved in shark attacks. Blood loss can be a major concern in shark bites.
According to The Sydney Morning Herald a paramedic on the scene said the man was missing around three quarters of his thigh and had wounds on his hands.
A Department of Primary Industries biologist will be examining photographs of the mans wounds to identify the species of shark involved in the incident.
Connellan is currently in serious, but stable condition, while Bombo beach will be closed for 24 hours as a precaution.
Australia has been attempting to prevent negative shark encounters by installing ECO shark nets, using sonar Buoys and drones.
However, it is currently unknown if any shark prevention measures were in place at Bombo beach. Although, had the area been dark at the time of the incident, most of the measures would not have been effective.
Sharks normally feed at dawn and dusk, so it is best to avoid ocean activities at these times.
On Monday, another Australian surfer was knocked off his surf board at North Cronulla Beach, in Southern Sydney.
This is the 12th shark attack bite of 2016 two of which were fatal.
All locations are marked on the 2016 shark attack bites tracking map.