A shark attack has been reported in Queensland, Australia, and in a second incident, a shark bit a surfer in New Smyrna Beach, Florida.
In Queensland, an unidentified female was working with a crayfishing boat in the water off Cape York Peninsula around 6:30 p.m. July 28.
The 21-year-old crew member of a crayfishing boat was snorkeling near Magra Islet off Cape Grenville when she was bitten on the leg by one shark, although another may have been involved.
She was transported to shore and flown by Royal Flying Doctor Service to Lockhart River Medical Clinic and later taken to Cairns Hospital where she is in a stable condition.
Rescue crew officer Dominic Hodalin of the Babcock Australasia's rescue helicopter, reported the woman had severe lacerations, but was speaking and conscious.
"The crew did an outstanding job in saving their teammate's life," Hodalin told ABC News, "thanks to their quick and appropriate first aid response to what was indeed a very stressful situation far from the mainland.
"They were all a bit shook up and very happy to see us, but their actions definitely saved their teammate's life in this case."
The woman suffered serious injuries to her lower right leg, and Hodalin thought two sharks may have been involved, but said the patient stated a tiger shark was in the area.
He also said shark attacks in the area were rare, but they have dealt with them in the past, and there is a risk when swimming during sunrise and sunset.
In the United States, a surfer was bitten by a shark in Florida.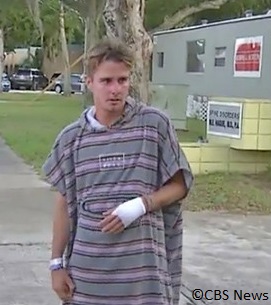 Reed Zipperer, 18, was surfing off the jetty at New Smyrna Beach July 29, and in waist-deep water around 1:30 p.m. when a shark grabbed his left hand.
"Went to paddle, and it just like, just bit me and I looked at it. Like three deep gashes. Like, sick, man," Zipperer told WKMG. "On the way here, we were talking like, all about sharks."
He left the water and notified lifeguards who wrapped his hand before his friends drove him to a hospital. He received 19 stitches to close the flesh wounds.
"There's a lot of bait in the water," Zipperer said. "The water is super murky and, like, I don't blame him. My hand probably looks yummy to them. I would do the same thing."
The presence of bait fish can also be a good indicator of shark activity. Especially if the bait is seen splashing or breaking the surface, attempting to escape sharky predators.
A second shark bite occurred in the same area two day earlier. William Angell, 49, was boogie boarding off New Smyrna beach July 27.
Around 4:30 p.m. the Arizona man was bitten on this right thigh. He was treated on scene before driving himself to the hospital.
Another shark bite was reported the same day off Jacksonville Beach Pier.
Professional surfer Frank O'Rourke was bitten on the elbow by a shark around 3:30 p.m.
Once he made it back to shore, he headed to the pub for a few drinks.
As of July 30, 2019, there have been a total of 52 shark attack bites (49 with injury, 11 of which are considered provoked*) publicly reported and verified in 2019.
All locations have been marked on the 2019 Shark Attack Tracking Map.
Five fatal**; 27 were reported in the U.S. (including one fatal), with 12 occurring in Florida (3 provoked),  7 in Hawaii (1 provoked,1 fatal) and 2 in California (1 no injury). Ten have been reported in Australia, zero fatal. Four unconfirmed bites, worldwide, not included in the total count.
*Provoked defined as spearfishing, feeding sharks, fishing, etc. (listed with green marker).
**not including one possible scavenge
Australia Breakdown:
Western Australia: 1 (0 no injury, 0 provoked), Fatal: 0, Unconfirmed: 0.
Northern Territory: 1 (0 no injury, 1 provoked), Fatal: 0, Unconfirmed 0.
Queensland: 4 (0 no injury, 0 provoked), Fatal: 0, Unconfirmed 2.
New South Wales: 4 (1 no injury, 1 provoked), Fatal: 0, Unconfirmed 0.
South Australia: 0 (0 no injury, 0 provoked), Fatal: 0, Unconfirmed 0.
Victoria: 0 (0 no injury, 0 provoked)), Fatal: 0, Unconfirmed 0.