Juliun Perkins was enjoying a day of surfing on Hawaii's famous North shore in Oahu September 8.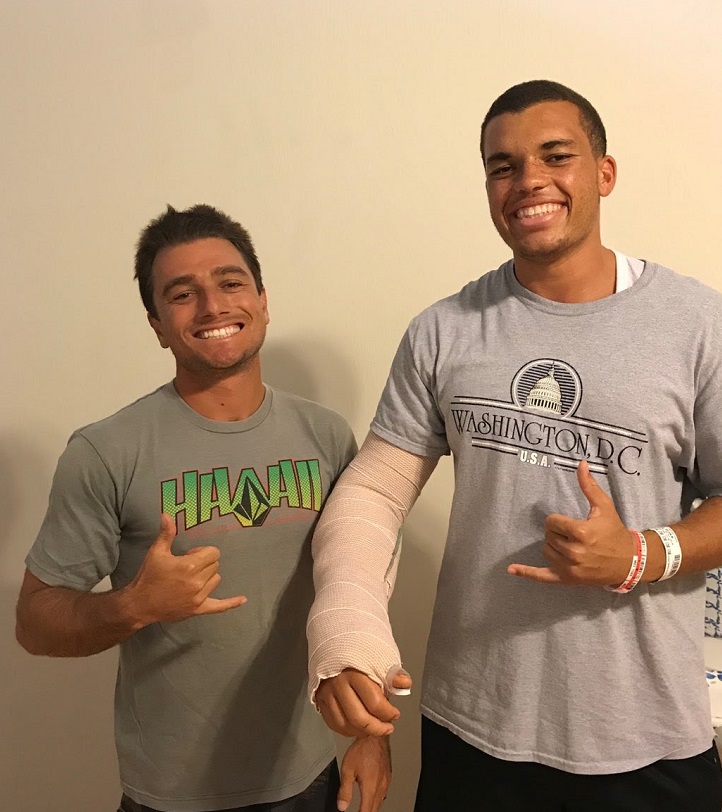 The 23-year-old and a few friends paddled about half a mile out near Pounders Beach at 6:30 a.m.
"The waves were pretty big that day and I'm not the most experienced surfer, so I was more just watching at the time," Juliun told Tracking Shark in a phone interview.
Perkins was being cautious as he floated in the rough, 8-foot water, watching the other 20 to 30 surfers catch waves.
Around 8:30 a.m., the recent college graduate was sitting on his Wavestorm board with his legs draped over either side when he got the shock of his life.
"I had both hands on the surfboard and I was looking to my left, and out of nowhere the shark grabbed my arm," he said. "I didn't hear any splashing beforehand; I didn't see any fins popping up on the horizon or anything. It just quickly jumped out of the water and got hold of my arm. I turned to my right and saw it on my arm for a split second."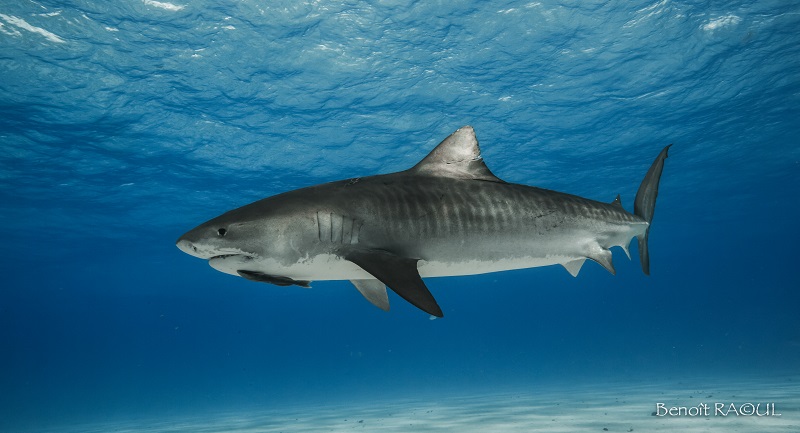 While his right arm was severely injured just below the elbow and above the wrist, the surfboard had prevented the 10- to 12-foot tiger shark's bottom jaw from severing the limb.
Perkins didn't panic and attempted to warn the other surfers.
"I started yelling for help, telling people there was a shark. I was raising my hand in the air so at least the people close by could see that I had been bitten.  I wanted them to know there had been an attack.
"I was looking at my arm the whole time I was paddling, and I could see everything – my tendons my bone, my nerves – I could really see my whole arm's inside."
Unfortunately, a wave crashed into him, knocking him off the board. The board was being pushed to shore with such force that his surf leash was pulled from his leg.
"I got taken [out] by a wave, which was probably the scariest part of the whole experience," he said. "I thought I was going to drown at that point – either drown or bleed to death. There was no way I was going to make it in half a mile with one arm while the other arm was bleeding profusely."
Perkins' friend Mitchell heard his calls and was able to grab the ghost board.
"Surfers who were out in the break quickly swarmed me and put a tourniquet on my arm using their leashes and propped me back on my Wave Storm, and they pushed me onto shore.
"It happened so fast, I just remember being really scared after I got bit and even more scared after the wave tipped me over," he continued. "But then I just remember being super happy and felt really blessed, really grateful, when I saw everyone around me pushing me in. There were six main people who saved me that day.
Juliun said he didn't know them beforehand, and while he might have seen a few of them before, he had never talked to them.
"I remember just going from complete mode of fear to one of the happiest people in the world. Just because I felt safe and knew I was going to be all right."
The other surfers pushed Perkins back to shore, where his friends Mitchell Hashimoto had already called emergency services. First responders arrived on-scene about 10 minutes after Perkins made it to shore, and he was taken to hospital.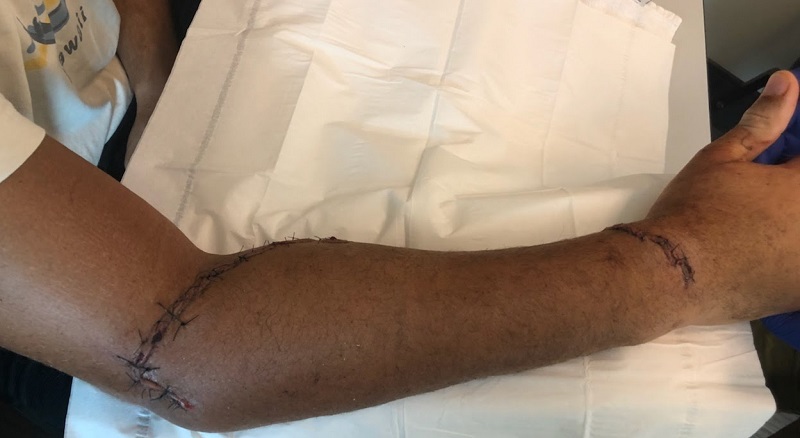 "I'm just glad the shark apparently didn't break or fracture any bones," he said. "My arteries were still intact for the most part. Just my tendons and my nerves were the main injuries."
Perkins can move most of his fingers, but not his wrist or thumb. He is scheduled for a radial nerve surgery next month.
He had just started a new job the previous week, and while the company is very understanding of the situation, he might need to miss a month of work.
His friends have started a GoFundMe page in hopes of raising money to help with future medical cost.
The incident will not keep Perkins out of the water, however, and is very thankful for the love he received from the surf community.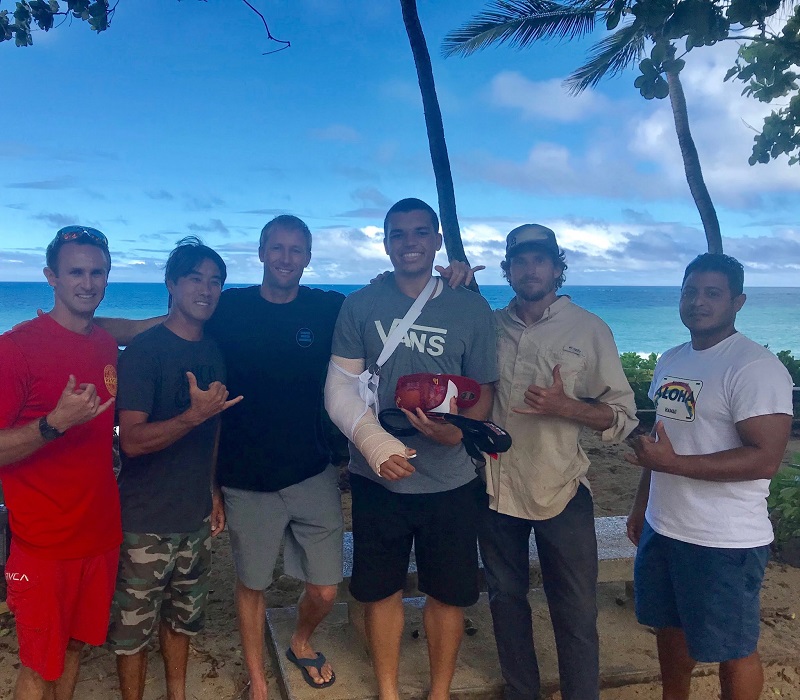 "I believe everything happens for a reason, and I am just glad that God provided those people out there to help save me," he said. "They're all experienced surfers, but I don't think any of them have ever gone through something like that. They were able to react quickly and with so much love for someone they had never met before."
Juliun said he'll never forget the help he received that day, without which he's sure he wouldn't be alive today.
There have been a total of 70 shark attack bites (48 with injury, 14 of which are considered provoked*) publicly reported and verified in 2018, including two fatalities**. Twenty-six were reported in the U.S., with 10 occurring in Florida and three in Hawaii. Fifteen have been reported in Australia, none fatal. Eight unconfirmed bites have been reported worldwide that were not included in the total count.
All locations have been marked on the 2018 Shark Attack Bites Tracking Map.
*Provoked defined as spearfishing, feeding sharks, fishing, etc. (listed with green marker).
**One possible scavenge.
All images courtesy of Juliun Perkins