A shark attacked a kayaker off the coast of New Zealand October 23.
David Lomas was cruising the waters off Takapuna Beach around 9 a.m. when his kayak started shaking.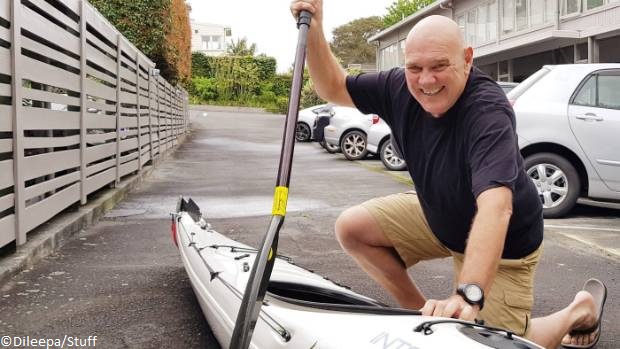 The investigative journalist and television host for TV 3's Lost & Found was around 55 yards from shore and alone.
"The kayak just started shuddering. It went on for about 10 seconds. My first thought was I'd hit a rock, but it's a place where I swim a lot in summer and I know there are no rocks there," he told the New Zealand Herald.
"I stopped my paddling and started to lift my rudder up when the shaking of the boat started again.
"I didn't know what the hell was going on; it was really quite freaky. It was only after the third time, when I looked down, that's when I saw the big silvery grey thing moving there."
He used his paddle to hit the shark estimated to be 7-feet long. He believes the shark could not get a good grip on the bottom of his kayak because of its rounded shape.
Lomas said when the shark disappeared he took the opportunity to paddle back toward the Takapuna boat ramp.
"I was certainly bloody scared by then, but I deliberately didn't paddle madly because, somewhere in the back of my head, I recalled that wild splashing attracts sharks."
He made it back to the dock and checked the bottom of his kayak but found no bite marks.
Lomas, who has been kayaking in the area for 30 years, and swam there during summer, has no qualms about returning.
"It's the first time I've seen a shark while paddling, so there is a pretty good chance I won't see another in my lifetime," he said.
This is the third reported shark incident reported in the country this year.
On April 27, an unidentified French tourist was bitten three times by a shark in Porpoise Bay.
The woman, who was in her mid-20s, had two puncture wounds above her knees and a large gash on her torso.
Friends were able to pull her to shore and she was transported to Dunedin Hospital for treatment.
The second incident involved a single-person craft near Tutukaka.
Matt Kensington was paddling his canoe August 26 with a group of nine when he felt a bump. The estimated 3-foot long shark bit the tip of the canoe before slapping its tail on the side of the boat and swimming away.
There have been a total of 90* shark attack bites in 2017, 6 of which were fatal*; 45 were reported in the US, with 31 occurring in Florida** and two in Hawaii. Fourteen have been reported in Australia, one of which was fatal. Five unconfirmed worldwide and not included in the total count.
All locations have been marked on the 2017 Shark Attack Bites Tracking Map.
*Two may be scavenge. **One report may have been outside of Florida waters.