A surfer who has referred to himself as "shark bait" has been bitten by a shark off Nambucca, New South Wales, Australia.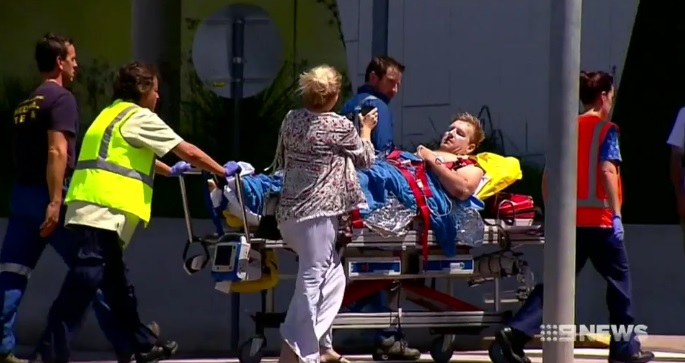 Joel Mason, 36, was hitting the waves off Nambucca Heads Dec. 9 around 7:15 a.m. when a shark grabbed his leg and right thigh.
"I saw him out there and I was pretty keen to go out there, and then he just disappeared," witness Scott Boxsell told 9News.
Mason managed to swim back to some rocks where other surfers and an off-duty life guard pulled him out of the water.
Good Samaritans used his surf leash as a makeshift tourniquet to help stem the bleeding.
A paramedic was dropped at the scene by helicopter and Mason was later loaded into the chopper. Mason suffered five deep laceration to his lower leg, according to NSW Ambulance Chief Inspector Brian Parsell.
Mason received a blood transfusion at the scene before being loaded into a rescue helicopter. The flight crew had to land during the rescue to acquire more blood before completing the journey to John Hunter Hospital. Mason was last listed in serious but stable condition.
Steve Frazer of the Ambulance NSW said Mason, the father of three, remained calm, and was extremely stoic while he helped medical personnel as they treated his injures.
Rob Mason, Joel's father, said his son has always been in the water and began surfing when he was 5 or 6 years old.
He said his son likes to go out on the water early and by himself. "He says he's shark bait, but he's prepared to take the risk and he does."
Rob also said he doesn't think the attack will hold his son back. "He may not go surfing by himself as often, but I figure he still will."
Earlier this year a great white was filmed biting a boat off Nambucca Heads.
Fisherman were jigging for bait fish when the estimated 2.5m-long juvenile shark moved in and bit the back of their boat.
There have been 10 shark bites in New South Wales this year.
Surfer Mike Ruttkowski was bitten off South Steyne area of Manly Beach Nov. 28.
An unidentified man participating in a surf school was bitten at Seven Mile Beach Nov. 16.
Lee Jonsson was surfing off Shelly Beach, Ballina Nov. 7 when a great white bit him on the left leg.
Body Surfer Paul Kenny was bitten on the arm after running into a shark at Samurai Beach Oct. 20.
As of December 10, 2018, there have been a total of 99 shark attack bites (73 with injury, 22 of which are considered provoked*) publicly reported and verified in 2018. Five fatal**; 33 were reported in the U.S. (including one fatal), with 13 occurring in Florida and 3 in Hawaii. Twenty-seven have been reported in Australia, one fatal. Eight unconfirmed bites, worldwide, not included in the total count.
All locations have been marked on the 2018 Shark Attack Bites Tracking Map.
Australia Breakdown:
Western Australia: 9 (4 no injury), Fatal: 0, Unconfirmed: 2.
Northern Territory: 1 (1 provoked), Fatal: 0, Unconfirmed 0.
Queensland: 7 (3 provoked), Fatal: 1, Unconfirmed 0.
New South Wales: 10 (2 no injury), Fatal: 0, Unconfirmed 1.
South Australia: 0, Fatal: 0, Unconfirmed 0.
Victoria: 2 (1 no injury), Fatal: 0, Unconfirmed 0.