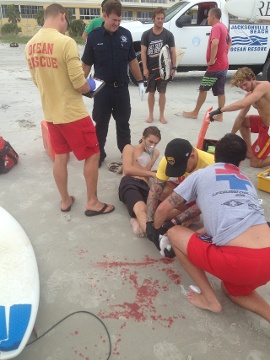 A surfer has been bitten by a on the foot by a shark at Jacksonville beach, Florida.
Bryan Liebetrau was out surfing with friends around 3 PM when he was bitten.
He was treated on scene by firefighters and later transported to Baptist Hospital.
Mr. Liebetrar received several stitches and was later released.
Earlier this year 10-year-old Kaley Szarmack was bitten near the same area.
This is the sixty-seventh confirmed shark bite of 2015, seven of which were fatal.
All locations have been marked on the 2015 shark attack bites tracking map.