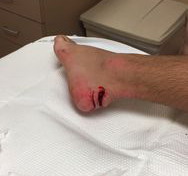 David Morrison was bitten by a shark at Vilano Beach, Florida.
The 22-year-old was lying on his surfboard Tuesday when the bite occurred.
He received 30 stitches on his left foot.
The shark was most likely a blacktip, chasing mullet or other spawning fishes through the murky waters.
On September 20th, a 16-year-old was bitten at the same beach.
All locations are marked on the 2015 shark attack bites tracking map.