A man was taken to the hospital after being bitten by a shark in Myrtle Beach, South Carolina.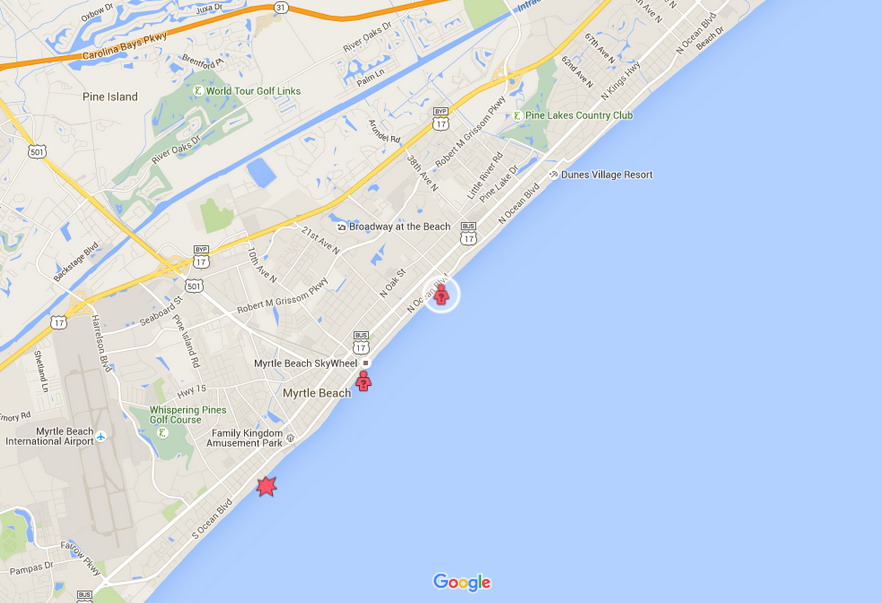 The unidentified man was swimming in the ocean around 27th Avenue North when he was bitten on the foot. He did not see any fish or other aquatic animals when the incident occurred.
Police were called around 10:15 a.m. today and the man was transported to the hospital.
Life guards closed the beach for about 10 minutes after the man limped out of the ocean.
"They said it was just like a small sand shark bit him on his leg," beachgoer Jordan Cates told Myrtle Beach Online.
"It wasn't like a serious bite. It was more like a little puncture than anything serious."
However, Tracking Sharks has received several reports that the mans foot was seriously injured. In addition, it was also stated the shark was around 4 to 5 feet long.*
This is the forty-seventh shark attack bites of 2016.
In June, a 42-year-old man was bitten near 12th avenue south while floating on his back.
Currently there have been a total of forty-six shark attacks bites in 2016. Five of which were fatal. Nineteen reported in the US, with thirteen occurring in Florida. Ten have occurred in Australia, three of which were fatal.
The location has been marked on the 2016 shark attack bites tracking map.
*Tracking sharks has reached out to a family member of the man requesting further details.