A woman has been bitten by a shark off the coast of Corona Del Mar.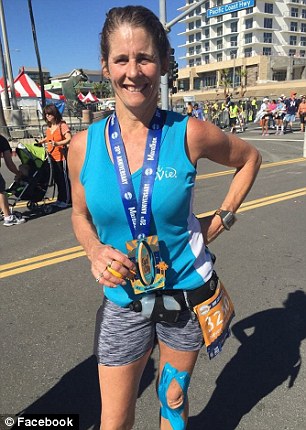 Maria Korcsmaros was training for a triathlon on Sunday at around 4:15 pm off the Corona del Mar State Beach when she was bitten.
The 52-year-old was swimming just past the buoys which mark a protected swimming area. Life Guards patrolling the area saw her waving her arms while screaming. They were able to pick her up in a rescue boat and identified injures to her torso, shoulder and arm.
The shark, which is suspected to be a great white, had bitten Korcsman once with the wound extending from her shoulder to her pelvis. She had several broken ribs and the abdominal wall was penetrated.
She was taken to OC Global Medical Center in Santa Ana for surgery and is currently in recovery.
Witnesses reported seeing a large gray object near Korcsmaros, who was wearing a wetsuit.
The beach is protected by a large rock jetty which may be home to sea lions and seals, a favorite food of great white sharks.
It has been speculated the shark involved was must probably a great white, though no shark sightings had been reported recently. California is known to have many juvenile great white sharks, however. The juveniles are normally not a threat to humans as they are focusing on seals and other food sources.
This is the thirty-first shark attack bite of 2016. Three of which were fatal. Eleven total in the US, with nine occurring in Florida.
All locations have been marked on the 2016 shark attack bites tracking map.