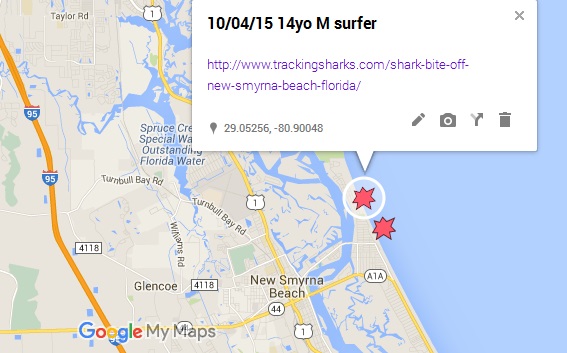 A 14-year-old was bitten by a shark this morning off the coast of New Smyrna Beach, Florida.
The young man was surfing near near Beachway Avenue  just before 8:30 a.m. when he was bitten on the left hand. He punched the 4- to 5-foot  blacktip shark, which swam away enabling him to paddle back to shore.
The boy sustained significant lacerations to his hand and was treated on scene by lifeguards and paramedics before being transported to the hospital.
On September 20th another teen was bitten off the same beach. Blacktip sharks often perform hit and run attacks, where they sneak up on what they believe to be prey, take a bite and then escape.  Unfortunately when the sharks are in choppy low visibility waters, they can sometimes confuse a foot or hand for a fish.
The location has been marked on the 2015 Shark Attack Map.