Updated Jan. 30.
A shark bite has been reported off New Zealand's Oreti Beach in Southland.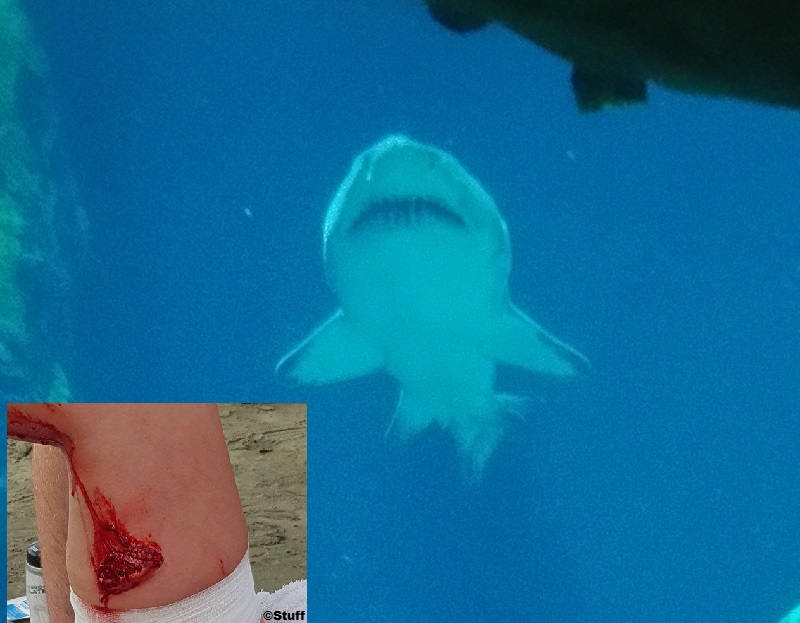 Several friends were boogie boarding late in the evening Jan. 29, when members of the group felt something bumping their legs.
The group quickly became aware that a predator was in their midst when a 17-year-old was bitten on the inner right thigh.
George Stopforth made it back to shore where life guards applied a tourniquet to her wound.
She was transported to the hospital by ambulance and will need multiple stitches.
First reports suggested a sand shark was responsible for the injury.  However, several people who have seen the cleaned wound believe it may have been caused by a stingray.
"It felt solid and round. It also gripped me, that's why I thought it was a shark. But a lot of people are saying it would have been a stingray," Stopforth told Stuff.
Sand sharks are commonly referred to as sand tiger or ragged tooth sharks in the USA and grey nurse sharks in Australia.
Just last year a 13-year-old was bitten by a sand tiger shark off the coast of New York.
Matthew Donaldson was boogie boarding off Atlantiue Beach when he was bitten on the leg.
The teen walked out of the water with several puncture wounds and a tooth fragment in his leg.
Experts at the University of Florida's International Shark Attack File were able to test the fragment and confirmed that it was from a sand tiger shark.
A second bite occurred on the same day a few miles up the beach.
Lolla Pollina, 12, was bitten while wading in waist-deep water. While the shark could not positively be identified, it is very possible it was also caused by a sand tiger.
There were three publicly reported shark attacks with injury in New Zealand during 2018.
In a rare encounter for the country, Andrew Brough was bitten by a great white sharks October 19.
The 25-year-old was off Baylys Beach, Near Dargville in the Northland Region when the shark slipped from beneath the surface and bit the surfers left arm.
Spearfisher Anton Oleinik was bitten Dec. 9 and Spearo Kevin Lloyd Dec. 15.
There have been a total of 3 shark attack bites (3 with injury, 0 of which are considered provoked*) publicly reported and verified in 2019.
All locations have been marked on the 2019 Shark Attack Bites Tracking Map.
Zero fatal**; 1 was reported in the U.S (including zero fatal), with 0 occurring in Florida and 0 in Hawaii. One has been reported in Australia, zero fatal. Zero unconfirmed bites, worldwide, not included in the total count.
*Provoked defined as spearfishing, feeding sharks, fishing, etc. (listed with green marker).
**Zero possible scavenge