A probable shark bite has been reported in the Florida Keys.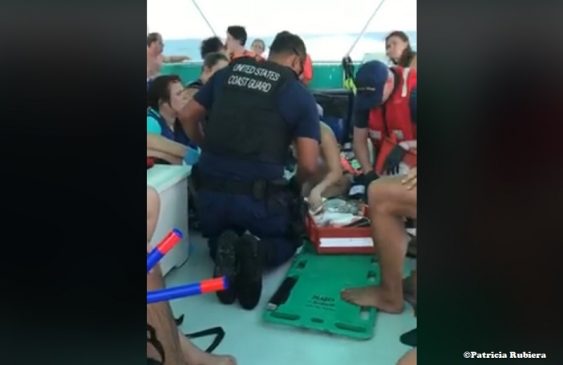 A Georgia man identified only as Donnie, whom witnesses said was celebrating his 30th wedding anniversary, was snorkeling at John Pennekamp Coral Reef State Park in Key Largo July 7 when he was bitten around 1:30 p.m.
"Within 15 minutes of all the snorkelers going out there, I saw one of the snorkelers, a male, waving his hands in distress," a witness told WTVJ NBC 6.
A member of the boat crew jumped into the water to assist Donnie out of the water.
"Up the ladder, right behind him was a woman who said she was a registered nurse. She asked if she could help and she and the captain immediately wrapped the leg," a witness reported. Other snorkeling passengers shared their towels with the nurse who applied pressure to the wound.
"He indicated that it was a shark bite. Other passengers maybe mentioned a barracuda, but there were other snorkelers who said they did see sharks in the water," according to the witness who asked not to be identified.
The Coast Guard was contacted, and Donnie was taken to shore where the Key Largo Volunteer Fire Department transported him to the hospital. His condition remains unknown at this time.
While there has been speculation as to whether the man was bitten by a shark, description of the wound given to Tracking Sharks by medical personal indicates the bite was rather large. Witnesses describe the wound as extending above and below the knee in a half-moon shape.
Preliminary information indicates a possible nurse shark bite. However, without further information the incident will be listed as unconfirmed.
There were several nurse shark bites reported in the Keys in 2017.
Ervin McCarty was snorkeling with a group of six people near Marathon City in the Florida Keys September 2 when one member of the group shot a grouper. McCarty went to retrieve the fish when a nurse shark latched onto his stomach.
Parker Simpson was spearfishing with a buddy June 4 at Middle Samo Reef off Boca Chica and filmed the trip with a head mounted camera. A nurse shark went after Simpson's catch and ended up biting the 23-year-old's leg. Simpson caught the bite on camera and shared the video on YouTube.
There have been a total of 48 shark attack bites (35 with injury, 7 of which are considered provoked*) publicly reported in 2018. One fatal**; 11 were reported in the U.S., with 3 occurring in Florida and 2 in Hawaii. Fifteen have been reported in Australia, none fatal. Five unconfirmed bites, worldwide, not included in the total count.
All locations have been marked on the 2018 Shark Attack Tracking Map.
*Provoked defined as spearfishing, feeding sharks, fishing, etc. (listed with green marker).
**One possible scavenge