An 11-year-old boy in Texas and a surfer in Florida are healing after being bitten by sharks. 
The young boy in Texas was visiting Galveston Island Beach Aug. 28 when he was injured by a shark. The youngster was playing in waist-deep water near Galveston Pocket Park 2 around noon when he was bitten above the ankle by a small shark. 
He was treated on scene and transported to John Sealy Emergency Room at the University of Texas Medical Branch where he was treated for quarter-inch deep lacerations on both sides of his ankle.
Shark bites in the area are reported every two to three years, and most are minor. These include an Aug. 16, 2018, incident when Blaine Shelton, 42, was bitten by a shark off Crystal Beach. He was 200 yards off the beach when he was bumped by 5- to 6-foot bull shark and received serious wounds above the knee. He was treated at the University of Texas Medical Branch in Galveston. 
In Florida, Jeremy Carr, 41, is healing after being bitten on the leg by a bull shark Aug. 21.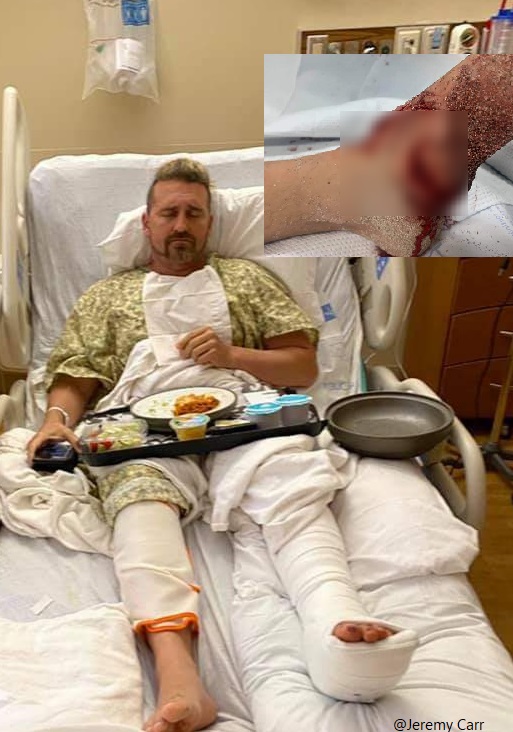 Prior to paddling out from Walton Rocks Beach before 6 a.m., he nearly had decided not to venture into the water. But, "it was the golden hour," he told Tracking Sharks. "The weather was beautiful and only a few other surfers were out." 
The area can become congested during weekends as surfers compete for waves.
Carr had been surfing for 30 minutes when he entered the water about 30 yards off the beach near a reef with a channel. He kept his body prone to keep his bare feet from hitting the bottom in 3- to 5-foot-deep water. 
He was attempting to hop back on his 11-foot white board when he felt something hit his foot.
"It came up from underneath and I felt a pressure. At first, I thought it was a fish, but when I tried to pull my foot up, I could tell it was something else." 
He said the shark let go and he hopped back on his board. "I started paddling in, but didn't want to look back at my foot," he said. "I didn't feel pain, but didn't want to look, either." 
Once he hit the beach, he put his board on his head and started to walk out of the water. That's when realization of the situation struck. "I couldn't walk," he said.
When he finally looked at his left foot, he saw large lacerations down to the bone.
"I started crawling toward the parking lot. I knew there would be people there and they would help," he said.
Thankfully, his surfing buddy Matt saw him struggling on the beach and came to assist.
"I asked if I could drive myself to the hospital or if he would need to do it," he said. Matt told him it was bad, that he wasn't going anywhere, and called 911. Matt wrapped a towel around Jeremy's wound as other surfing compadres arrived to assist, using a surf leash as a tourniquet.  
Carr was taken by ambulance to Lawnwood Medical Center where he underwent several surgeries to repair torn ligaments, tendons and broken bones. 
While the event hasn't broken him emotionally, his medical bills are stacking up. A friend at a local surf shop set up a GoFundMe to help with the medical bills. 
Regardless, he doesn't blame the shark. "I was in an environment where sea turtles have been spotted and near where people fish sometimes, during their feeding time.
"They are apex predators, doing what they do. They are vital to the food chain and keeping our marine environment in check," he said. "We really need more of them."
As soon as he is healed, he plans to get back in the water.
Both locations have been marked on the 2021 Shark Attack Map.