A former college basketball player is recovering from a shark bite he received in Hawaii.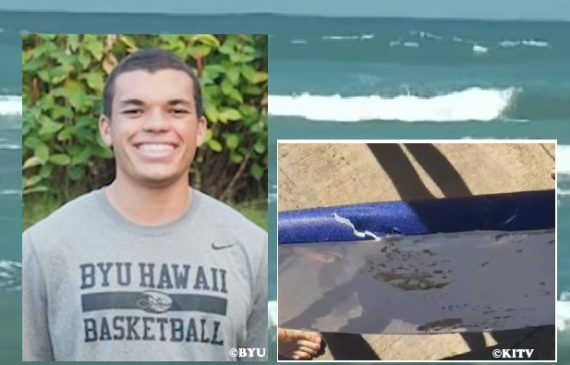 Juliun Perkins was hitting the waves September 8 near Pounders Beach on Oahu's North Shore.
Update: Full Interview with Juliun now available.
Just after 8:00 a.m., 20 to 30 people were waiting in the surfline off Laie Beach Park when they heard someone yelling for help.
"It was beautiful, glassy, really good waves and all of a sudden you hear someone yelling Help! Shark! Help," witness Ryan Hailstones told Khon-TV 2.
"I just saw the fin going back-and-forth, back-and-forth, while he's screaming trying to fight the shark off," he said.
Honolulu, Hawaii news, sports & weather – KITV Channel 4
"Out of nowhere, we just hear screaming, 'Shark! Help!' It wasn't hysterical; he's a very calm guy. All the surfers looked over. We just saw the splashing of the fin," Perkin's friend Mitchell Hashimoto told KITV4.
One surfer, Flynn Novak, said the 8- to 10-foot shark had cleared the lineup of everyone but Perkins, who had been bitten.
"There was just the one guy sitting on his surfboard and he was holding his arm," Novak said. "He couldn't swim (with his injury), he lost his board, and there wasn't anybody else in the lineup at the time. So, I just made my way to him.
"At that point, I realized we were surrounded by a pool of his blood. My main concern was just to keep him calm. But inside I was like, uh oh, there's a big predator here. You could see the big gash up here."
Novak and Perkin's floated in the water as they waited for Novak's friend and lifeguard Jessie King to bring another board.
"That one or two minutes with him was probably the longest minute or two of our lives," Novak said
Once King arrived, the two were able to apply a tourniquet and paddle back in.
Perkins was treated on the scene before being transported to the hospital where he needed surgery for the large area of flesh missing just above his right elbow and wrist.
Shark warning signs are posted along Pounders Beach.
There have been two other shark bites reported on the Island's this year.
Dylan McWilliams was bitten by a tiger shark off Kauai April 19.
"I was in about 15 feet of water and it was pretty clear," he said via email. "It just hit me while I was getting on my board."
At first, the Colorado native panicked as he was uncertain if the estimated 6- to 7-foot long tiger shark severed his leg or if it would return to his location. He was able to swim around 30 yards back to shore and shout for help.
A good Samaritan helped dress the wound and he now has the unique distinction of not only surviving a shark bite, but also withstanding both a black bear attack last July, as well as a rattlesnake attack several years earlier.
A much more serious event occurred on the Island of Hawaii March 31 when an unidentified man had his leg severed by a shark.
The 25-year-old was boarding with his father when the shark struck, knocking both men into the water. The son was bitten on the leg and sustained injuries to his right hand, most likely from trying to fight the shark.
There have been a total of 69 shark attack bites (47 with injury, 14 of which are considered provoked*) publicly reported and verified in 2018. Two fatal**; 25 were reported in the U.S., with 9 occurring in Florida and 3 in Hawaii. Fifteen have been reported in Australia, none fatal. Eight unconfirmed bites, worldwide, not included in the total count.
All locations have been marked on the 2018 Shark Attack Bites Tracking Map.
*Provoked defined as spearfishing, feeding sharks, fishing, etc. (listed with green marker).
**One possible scavenge