Matt Kensington was taking his new outrigger canoe for a paddle near Tutukaka, New Zealand when a shark popped up.
Kensington was around 4 miles from Tutukaka with a group of nine August 26 when he felt a bump.
"I took a few more strokes and he must have come up from underneath and bitten the canoe," he told the New Zealand Herald.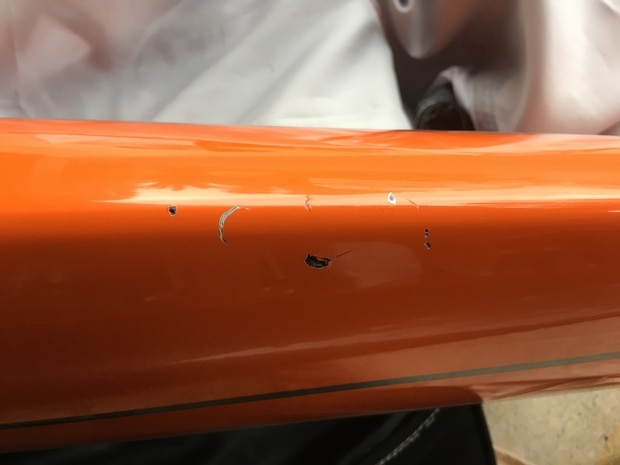 The collision caused the roughly 3-foot shark to slap against the side of the boat before swimming off.
"It was a hell of a bang. He wasn't a monster, but enough to give you a fright," he said.
While he has seen sharks on previous outings, this was the first time he has seen one up close.
"The scary part was I had actually tipped out about five to 10 minutes beforehand."
He continued paddling, not realizing the shark had bit the boat.
"It wasn't until I actually picked the canoe up out of the water that I realised it had water in it," he said.
While the boat had several punctures to the hull, Kensigton believes it can be easily repaired.
This is the second shark incident in New Zealand for 2017.
On April 27, a French tourist was playing in Porposie bay when a shark attacked.
The woman, who is in her mid 20s, was bitten three times, had two puncture wounds above her knees and a large gash on her torso.
Friends were able to pull her to shore and contact emergency personnel.
A large group of people on the beach applied pressure to the wounds and administered first aid as they waited for a rescue helicopter from the Otago Rescue Helicopter Trust to arrive.
She was taken to Dunedin Hospital and was said to have been conscious during the event and able to stand after the incident.
There have been a total of 70* shark attack bites in 2017, 5 of which were fatal*; 34 were reported in the US, with 22 occurring in Florida** and one in Hawaii. Nine occurred in Australia, one of which was fatal and one with no injury.  Four unconfirmed worldwide and not included in the total count.
All locations have been marked on the 2017 Shark Attack Bites Tracking Map.
*Two may be scavenge.    **One report may have been outside of Florida waters