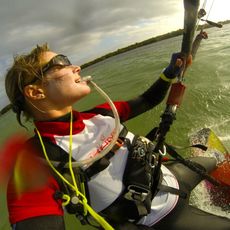 Jess Diggs had a close encounter with a shark while attempting a Kiteboarding world record on the Great Barrier Reef on Sunday. Ms. Diggs sat back in the water to put on some sunscreen when she felt a "big thump" on her back. Then she saw a shark, possibly tiger or whaler shark, swim away. She was able to get back on her board.
Once she was out of the water off Davies Reef she got a shock as she pulled her phone out of her CamelBak. Her phone and its hard case were smashed up and there were bite marks in her pack.
Ms. Diggs is part of a world record attempt by eight kiteboarders who are attempting to raise funds for motor neuron disease research, by kitesurfing 1000km along the Great Barrier Reef.
You can read more about Kite the reef at http://www.kitethereef.org/
The approximate location has been marked under interactions on the 2015 shark attack bites tracking map.