Updated May 15, 2019.
Two shark bites were reported over the weekend.
The first occurred March 22 at Jupiter Island, Florida.
Chris Bryan, 42, had just finished up his last set of waves in cloudy water around 4 p.m. when he jumped off his off-white board and a shark grabbed his foot.
"I was bitten as I entered the water after jumping off my surfboard in about 3-4 feet of water. The bite occurred after entering the water, but before I touched the bottom," he told Tracking Sharks
The estimated 4-foot shark bit once then released the South Fork High School math teacher's left foot.
Unfortunately, the quick bite caused serious damage including a severed tendon.
"The wound went down to bone both on the top and bottom of my foot," he said.
Good Samaritans jumped to Bryan's aid and helped him out of the water and alerted authorities.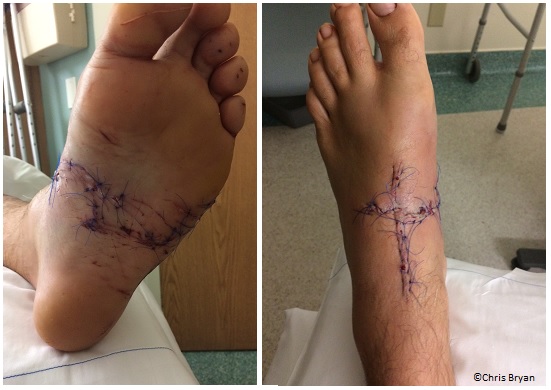 Doctors rushed the teacher to surgery and used around 140 stitches to close the wound.
The incident hasn't affected Bryan's outlook, and when physical therapy ends, he plans on hitting the waves again.
"I'm ready to get back in the water," he said, adding that it will be a good story to tell his students.
Earlier in March, Kael Dewey, 11, was bitten on the foot while boogie boarding off Stuart Beach, located about five miles north of Jupiter Island.
A second, more serious interaction occurred more than 9,000 miles away March 25 on the Great Barrier Reef, North Queensland, Australia.
Ryan Bowring was swimming, from a private vessel around 12:30 p.m. when he was bitten on the buttocks and upper leg.
The 25-year-old was able to swim back to the vessel and Queensland Ambulance Service (QAS) was notified.
Rescuers rushed to the area by air and hoisted the patient into the rescue helicopter.
A QAS spokesman said the Bowring's wounds had been well bandaged and there were no major hemorrhages.
Bowring was taken to Mackay Base Hospital in serious but stable condition.
Updated March 26, 2019.
Mr. Bowring released the following statement:
"Thank you to everyone who has asked after me following the shark incident at Block Reef yesterday. I am doing ok and really want to take the opportunity to thank my crewmates, the RACQ CQ helicopter staff and members of the emergency services for their help.
"Contrary to reports, I was not spearfishing or diving in what was about 3 metres of water. I had been in the water for about 20 seconds [and was] about to lead a snorkelling tour when I felt the initial bump and bite.
"I can only assume that when I entered the water I must have come in on top of or surprised the Grey Reef Shark, causing it to retaliate.
"The reef is a stunning place, full of incredible marine life and I have been disappointed that what was really a freak accident, has been portrayed as something more sinister.
"At this stage, I am being well looked after in hospital after surgery last night and my focus is on recovering and getting back to work. I would appreciate that you respect my privacy during this time."
There have been a total of 15 shark attack bites (13 with injury, 5 of which are considered provoked*) publicly reported and verified in 2019.
All locations have been marked on the 2019 Shark Attack Map.
One fatal**; 6 were reported in the U.S (including zero fatal), with 3 occurring in Florida and 2 in Hawaii. Four have been reported in Australia, zero fatal. Three unconfirmed bites, worldwide, not included in the total count.
*Provoked defined as spearfishing, feeding sharks, fishing, etc. (listed with green marker).
**Three possible scavenge
Australia Breakdown:
Western Australia: 1 (0 no injury), Fatal: 0, Unconfirmed: 0.
Northern Territory: 1 (1 provoked), Fatal: 0, Unconfirmed 0.
Queensland: 1 (0 provoked), Fatal: 0, Unconfirmed 2.
New South Wales: 2 (1 no injury), Fatal: 0, Unconfirmed 0.
South Australia: 0, Fatal: 0, Unconfirmed 0.
Victoria: 0 (0 no injury), Fatal: 0, Unconfirmed 0.