Ocean users in North Carolina, Thailand and New Caledonia have been bitten by sharks.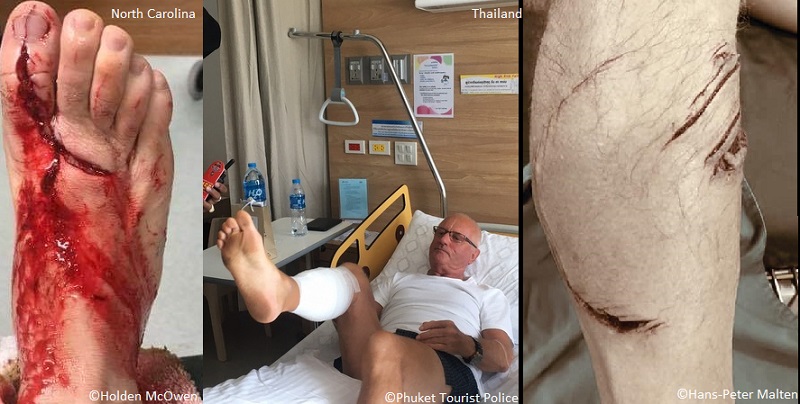 Samuel Horne, 26, was paddling in surf off the Outer Banks Jan. 13 around 2:30 p.m. when he was bitten by a shark. He suffered a large laceration at the tip of his big toe, slashing down below his little toe.
The Manteo resident was treated on scene near Sudie Payne Road, Rodanthe, N.C., and transported to The Outer Banks Hospital in Nags Head.
The unusual shark presence has been attributed to the extremely warm 60-degree temperature of the water, typically like early summer rather than winter.
 Another man had a run in with a shark a day earlier.
Hans-Peter Malten, 75, was visiting Nang Thong Beach Jan. 12 when he was bitten by a shark. After an early morning walk on the beach with his wife, the German tourist went for a swim around 7:15 a.m. He was 20 to 22 feet from the shore when a shark grabbed his right calf.
Malten called for his wife who helped him out of the water and onto the beach. She alerted hotel staff who rang for an ambulance. He was treated for an 8-inch-long wound and a severed tendon at the Andaman Hub Medical Center in Khao Lak. Because of the severity of his injury, he was transferred to Bangkok Hospital Phuket and later discharged.
On Jan. 3 in New Caledonia, a 12-year-old was bitten by a shark.
The young man, only identified as Peter, was swimming with his family in Canala Bay when a shark grabbed his right leg.
He was transported to the Canala dispensary before being taken to the Médipôle in Noumea Hospital Center for treatment for the deep cuts on his thigh and calf.
There have been 5 shark attack bites in 2020. One has been reported in the United States and two in Australia, one of which was fatal.
All locations are marked on the 2020 Shark Attack Map.