A surfer received the shock of her life when a shark bit her surfboard in Maui, Hawaii.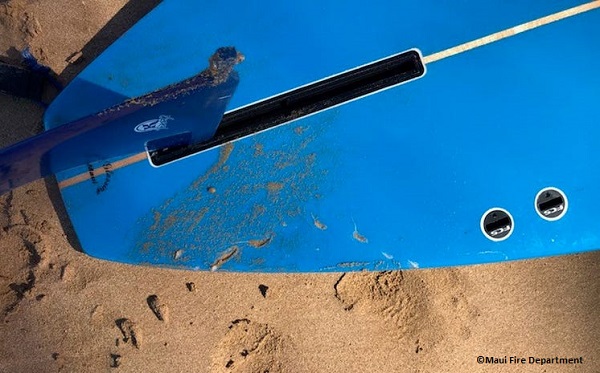 The unidentified female was hitting the waves a little after 9 a.m. when a shark bit the back of her board Sept. 26.
"She screamed so loud. I paddled over to her slowly and made her comes toward me. She was stricken with fear and needed to be helped/cheered on to paddle towards the shore," witness Amy Langlotz Weis told KITV4.
The two paddled around 150 yards to shore where bystanders had already alerted authorities.
Kīhe Engine 6 fire medics responded to the scene at 1554 Halama Street where the surfer identified the shark as being 6- to 7-feet long.
"The victim was reportedly shaken, but unharmed. Ocean Safety personnel on a jetski cleared the waters of oceangoers in the immediate vicinity and continued patrolling the area," Services Chief Rylan Yatsushiro told Maui Now.
Shark attack protocol was initiated and water users were removed from the water and Ocean Safety personnel used jet skis to patrol nearshore waters between the Maui VFW Hall and Cove Beach Park.
Earlier this year a man was killed after a shark attacked him off Maui.
Dr. Thomas Smiley, 65, was swimming near Ka'anapali Beach Park around 9 a.m. on May 25.
The recently retired California optometrist was about 60 yards off Honokowai Point in clear 20- to 25-foot deep clear water, when a shark severed his left leg below the knee.
A witness told Tracking Sharks that the shark grabbed Dr. Smiley and shook him for about 10 seconds.
The father of 3 floated face down for about 8 to 10 minutes until lifeguards arrived and pulled him to shore.
He was pronounced dead on scene.
Native Hawaiian chants foretell of greater shark activity in the fall months.
The native Hawaiian chant Pua ka wiliwili nanahu ka mano translates to When the wiliwili tree flowers, the shark bites. And statistics show that there is an increase in the overall small number of shark attacks on the islands.
A study by the University of Hawaii, funded in part by the Department of Land and Natural Resources Division of Aquatic Resources, learned around 25 percent of the Northwestern Hawaiian Island female tiger sharks migrate to the main islands during the fall to give birth.
While the odds of being attacked by a shark are slim, several shark attack prevention techniques can be utilized. 
This is includes avoid murky water and areas where fresh and saltwater meet, especially after rain storms. Animal carcass can be washed into the ocean which can attract sharks.
Stay in groups and near beaches with life guards. Do not swim at dawn or dusk, sharks feed during these times and visibility is not the best.
There have been a total of 76 shark attack bites (70 with injury, 19 of which are considered provoked*) publicly reported and verified in 2019.
All locations have been marked on the 2019 Shark Attack Map.
Five fatal**; 45 were reported in the U.S. (including one fatal), with 24 occurring in Florida (4 provoked) 14 in Hawaii (3 no injury, 4 provoked, 1 fatal) and 2 in California (1 no injury). Ten have been reported in Australia, zero fatal. Four unconfirmed bites, worldwide, not included in the total count.
*Provoked defined as spearfishing, feeding sharks, fishing, etc. (listed with green marker).
**One possible scavenge