A shark diving boat captain was bitten by a shark May 28.
Randall Jordan was diving off the coast of Florida when he was bitten on what appears to be the hand and forearm by a shark.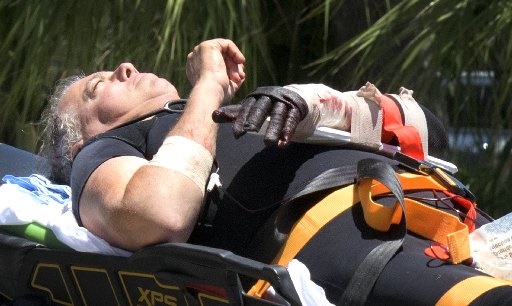 After receiving a distress call that a man had been bitten by a "sea creature", the Palm Beach County Sheriff's office dispatched the Marine One unit. After arriving on scene authorities determined the injury was quite severe and requested air transportation.
The 61-year-old was taken back to shore before being transferred to a Trauma Hawk helicopter at Lighthouse Park in Jupiter. He was then flown to St. Mary's Medical Center.
Deborah Toohey, who said Randall is her brother, told The Palm Beach Post that doctors were performing "reattachment surgery".
"He tries to teach people to not be afraid of sharks," Toohey said. "He's an avid environmentalist when it comes to sharks."
Jordan was convicted of three misdemeanor charges in 2015 that stemmed from shark feeding in Florida waters.  Judge Sheree Cunningham withheld a finding of guilt, but did sentence him to 100 hours of community service and fined him $1,500.00.
The state of Florida has had a ban on shark feeding in its waters since 2001.
Had Jordan been around one-quarter a mile further off the coast of Florida, he would have been in federal waters and there would have been no charges.  He attributed the mistake to a faulty GPS system on his boat.
There have been a total of 46* shark attack bites in 2017, 5 of which were fatal*; 20 were reported in the US, with 15 occurring in Florida** and one in Hawaii. Nine occurred in Australia, one of which was fatal and one with no injury.  Three unconfirmed worldwide and not included in the total count  *Two may be scavenge    **One report may have been outside of Florida waters.
All locations have been marked on the 2017 Shark Attack Bites Tracking Map.