A Shark feeding frenzy has been caught on film.
Gran and Sam Eastland recently filmed an estimated 38 sharks feasting on a whale carcass off Western Australia's North Coast.
The father and son team were on a fishing and surfing holiday at Cape Carnarvon when they witnessed the amazing scene.  The duo was able to use a drone to record aerial shots of the sharks as they devoured the whale carcass.

"Different pieces would break off and float out into the ocean, and that's where the drone footage would show bigger sharks and more sharks," Grant told Seven News.
Sharks would nearly beach themselves as they attempted to eat pieces of the whale that had drifted near the beach.  Sam even attempted to touch one of the sharks as it floundered on the beach.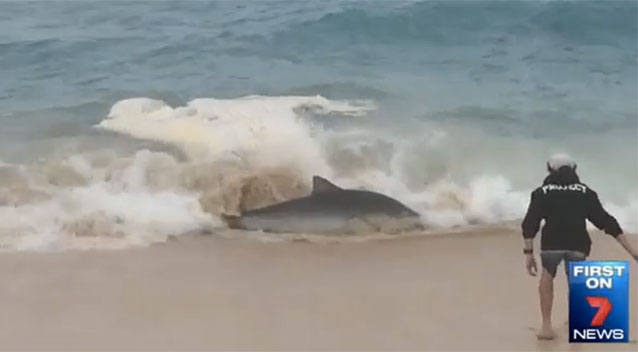 "I wanted to see if I could grab it," he said, "but I got a bit too wet."
After 4 days, the sharks had left the area. Apparently the remains had become too rancid for the sharks to eat.
While watching the shark feeding frenzy, Grant wondered how it would change opinions on Australia's cull program.
"(It) makes you realise what amazing creatures they are, and I guess culling and stuff like that, makes you a bit more against it," he said.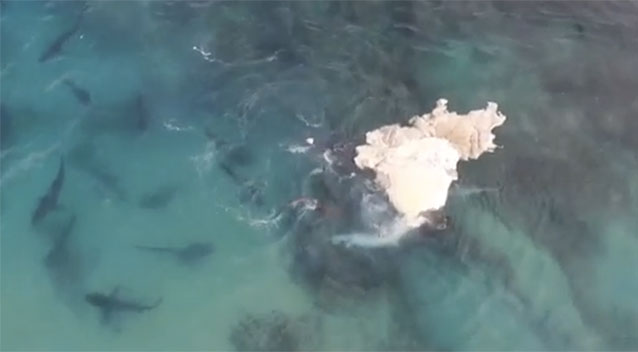 A variety of shark species, including tiger sharks, took part in the 3 day buffet. Tiger sharks are known to be the garbage cans of the sea. Old tires, car tags and other oddities have been found in their stomachs.
Earlier this year a tour group filmed around 70 tiger sharks feasting on a dead whale near Dirk Hartog Island, Western Australia.
The group also used a drone to film aerial footage and even managed to capture some close up photos of the sharks.