Update 7/16/14 and 7/17/14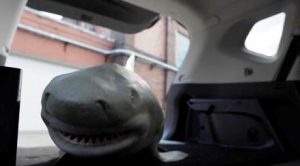 It  is a promo for shark week.
The video is a first step in a multi-stage marketing campaign for the Nissan Rogue.
Thanks to User LMC for the update!!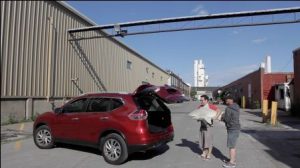 "The campaign was developed for Nissan by Bell Media's Brand Partnership team and in collaboration with Nissan's marketing partners, OMD and TBWA. Dubbed "In Search of Canada's Rogue Shark," it covers the rugged Canadian terrain – in a Nissan Rogue, of course >from the Pacific to the Atlantic, from the Bay of Fundy to the St. Lawrence – and even the Great Lakes – to understand these amazing fish and create awareness for the Canadian shark population…if it does indeed exist here."  discovery.ca/rogueshark, launching July 28
Original article below.
So is this a shark or just a big catfish in Lake Ontario? At some points I thought it was a shark, other times it looks like a catfish. So I decided to ask our friend Melissa C. Márquez from sarasotafins.weebly.com to take a look. This is what she had to say: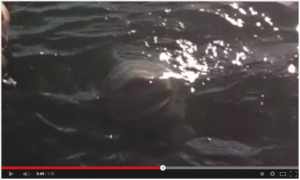 At the 0:49 mark, you can see what looks to be teeth. They seem to be pretty triangular, and very similar to bull shark teeth.
Catfish, on the other hand, lack such prominent teeth.
Unfortunately, the only way to be 100% sure is to catch it, or for it to have been caught. In my professional opinion, I believe it to be a small bull shark.
Cheers,
Melissa
So thanks to Ms. Márquez, the debate has been solved.  What we are seeing is more than likely a small bull shark.  Agree or disagree, let us know why in the comments.