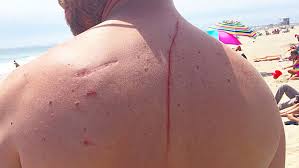 Eugene Finney and his 10-year-old daughter were treading water at Huntington Beach, California on July 28.  He held onto his daughter as the dove into a 7 to 10 foot swell.  As the wave passed over head, Finney felt something smash into his back.  It hit so hard it left him dazed and confused.
The 39-year-old was able to safely leave the water with his daughter and went to the beach shower to wash off a long bleeding scratch that was going to between his shoulder blades.  At the same time life guards started alerting people to leave the water as shark fins had been spotted.
Five days later Finney was still having severe back and chest pains and finally went to the hospital. The blunt force of the shark had left him with interior bruising. Thankfully the doctors also noticed a cancerous tumor on his kidney.
He told The Sentinel & Enterprise News "If they hadn't made this incidental find, I wouldn't have known until it was too late. "I could have ended up with cancer metastasizing all over my stomach area, and you don't come back from that."
He credits the shark with saving his life saying "It could have bitten me, but it nudged me just enough."