A shark steamrolled a swimmer in New South Wales, Australia.
Adam Hoare was with his son Matthew and Daughter April in Kiama on February 15.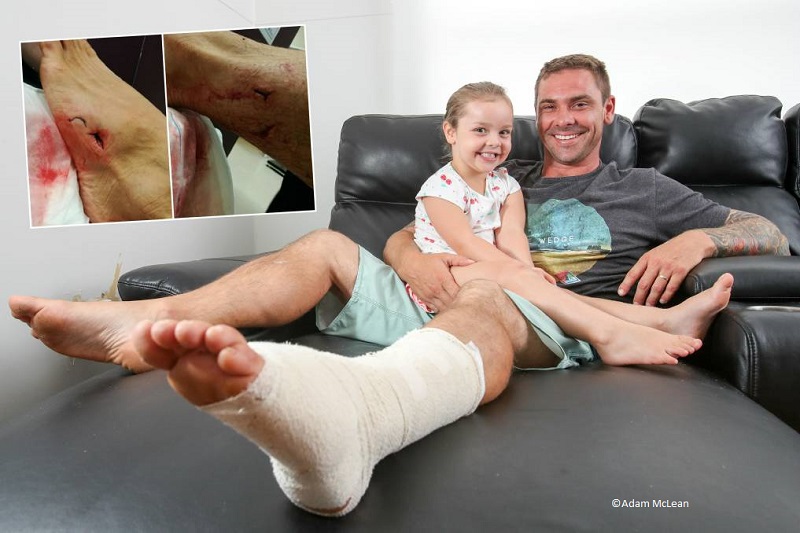 The trio were playing in the shallows off Surf Beach, watching large tuna swim through the breakers as they chased small bait fish.
Hoare told his children to stay close in the shallow water to avoid the fish.
"It was low tide, so it was really nice. It was really shallow pretty much all the way to out the back," he told the Illawarra Mercury.
The 35-year-old stayed in after the children left just before 4 p.m. and went under two waves in the waist-deep "white washy and sandy" water.
"I was just walking backwards watching the waves come in and going 'oh, wow, look at all the tuna' and it [the shark] just came in like that [from the back side]," he said.
"I reckon it was just going straight for the tuna," he said.
"It hasn't actually bitten me, it's just swum into me.
"It felt like I was hit with a sledgehammer in the leg."
Hoare fell back and onto what he believed to be a two-meter (6.5 foot) bull shark.
"It was like falling on a slippery rock, it was that solid. It just sort of went underneath me and [it was] gone," he said.
"That was it … in two or three seconds it was over."
The self-employed painter lifted his foot out of the water.
"I was like 'my foot's still there, so it's all good'," he said.
He alerted a lifeguard and the superficial wound was treated on-scene by paramedics before he went to the Shellharbour hospital.
Even though he has five puncture wounds to his left lower leg and foot, he doesn't believe the shark bit him.
"If it was trying to bite me I'd have no leg left, put it that way," he said. "There was no crunch, there was no bite."
"I had her [April] in my arms five minutes before in the same spot," he said, adding that six-year-old Matthew had also been out playing on his bodyboard.
"It was just a total freak accident – in the way at the wrong time."
Based on photos of the injuries, Mr. Hoare's foot may have grazed the shark's open mouth.
There have been a total of 8* shark attack bites* in 2018, 0 of which were fatal*; none have been reported in the US. Five have been reported in Australia, none of which was fatal.
All locations have been marked on the 2018 Shark Attack Bites Tracking Map.
*two with no injury