A 37 yo female was bitten on the left hand by a black tip reef shark near Palmyra Atoll on Sunday.  She was a NOAA researcher living on the atoll.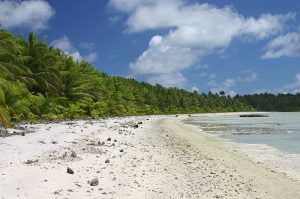 "A HC-130 Hercules airplane crew from Coast Guard Air Station Barbers Point was launched to Palmyra Atoll to conduct the medevac. The patient was transported to Air Station Barbers Point on Oahu where emergency medical technicians safely transported her to Kaiser Permanente Moanalua Medical Center and Clinic for further treatment," the Hawaiian Reporter reported.
The crew was concerned there might be an infection, possible tendon and nerve damage.
She is in stable condition.
The location has been marked on the 2014 Shark Attack Bites Map.
According to Wikipedia, the Atoll is roughly 1,000 miles from Hawaii.
The atoll consists of an extensive reef, two shallow lagoons, and some 50 sand and reef-rock islets and bars covered with vegetation—mostly coconut trees, Scaevola, and tall Pisonia trees.
The islets of the atoll are mostly connected. Sand Island and the two Home Islets in the west and Barren Island in the east are not. The largest island is Cooper Island in the north, followed by Kaula Island in the south. The northern arch of islets is formed by Strawn Island, Cooper Island, Aviation Island, Quail Island, Whippoorwill Island, followed in the east by Eastern Island, Papala Island, and Pelican Island, and in the south by Bird Island, Holei Island, Engineer Island, Tanager Island, Marine Island, Kaula Island, Paradise Island, and Home Island (clockwise). Average annual rainfall is approximately 175 in (4,400 mm) per year. Daytime temperatures average 85 °F (29 °C) year round.