Ali Mohamed Al Baloushi was spearfishing off the Khorfakkan coast May 12, when he was bitten by a shark, possibly a mako,  sometime after 7 a.m.
The 41-year-old, who has been spearfishing for 16 years, had just come up from a dive and was around 10 feet (3m) from his boat when a shark grabbed his leg.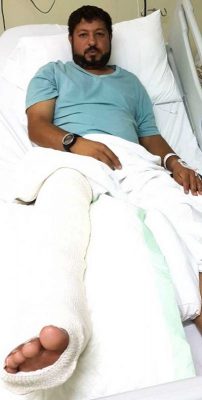 Ali Baloushi's dive buddy Omar saw the shark biting his friend and shot it twice killing it. Omar was able to help remove the shark from Baloushi's leg and the two tied the shark to their boat and headed back to shore.
"If his friend had not dragged him to shore, he would have bled to death." Ali's brother Hassan Mohamed Al Baloushi told the Khaleej Times.
Ali Baloushi was taken to the Khorfakkan hospital and then to the Abu Dhabi for further treatment.
"Hopefully, Ali will make it. Unfortunately, he is diabetic, but appears in good spirits," his brother said.
There have been a total of 42* shark attack bites in 2017, 5 of which were fatal*; 18 were reported in the US, with 14 occurring in Florida and one in Hawaii. Eight occurred in Australia, one of which was fatal. One with no injury and zero suspected attack bite.
All locations have been marked on the 2017 Shark Attack Bites Tracking Map.
*Two may be scavenge