A surfer has been attacked by a great white shark in Byron Bay, New South Wales, Australia.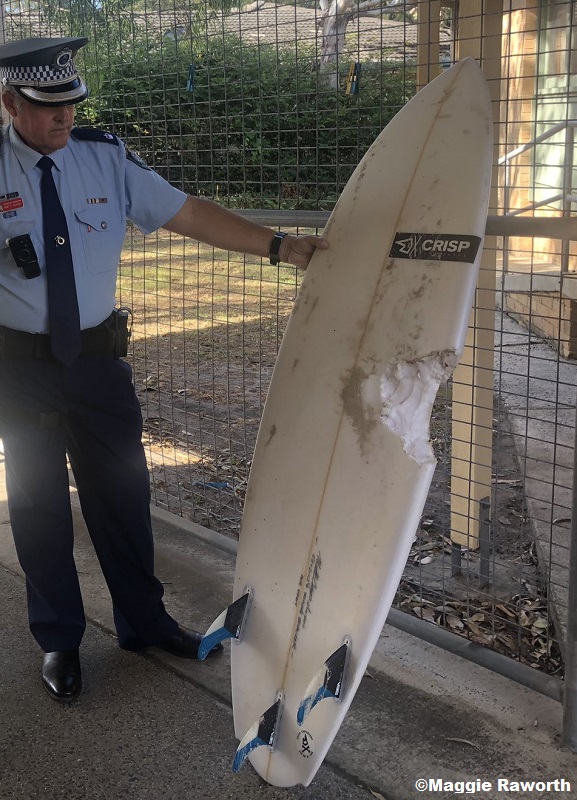 Sam Edwardes and friend Dane Davidson hopped on their boards off Belongil Beach at 6:40 a.m. Feb. 17.
The two had just paddled out when a great white shark attacked Edwardes.
"Keen for a wave this morning, went for a surf and had literally only just paddled out of the water," Davidson told media.
"I was about 20 meters (65ft) behind him (Edwards), he sat up on his board and instantly a shark smashed up from underneath and knocked him clean off his board.
"There was a lot of thrashing and splashing. He started screaming. We didn't realize until we paddled back to the beach that there was a big chunk taken out of his leg," he explained.
"There was a lot of blood, a lot of bleeding. The bleeding was pretty bad. We didn't see the shark but a bloke who was out there earlier said he saw a fin and he reckons it was a juvenile Great White.
"I was freaking. When I heard the screams he was making in the water, and then I saw a chunk of his board floating off, that's when I realized it was pretty bad.
"He was conscious but his eyes were drifting around a bit, he seemed a bit dizzy," Edwardes roommate said.
"He was saying his breathing was laboring; overall I think he was alright, he was just in a bit of shock."
Davidson and other good Samaritans used their surf leashes to help stem the bleeding as they waited for emergency personnel.
Edwardes sustained severe injuries to his upper thigh which missed his artery by millimeters.
Westpac Rescue Helicopter service transported the injured surfer to Gold Coast University Hospital in serious but stable condition. At last report, the Suffolk Park man remains in a serious condition following surgery.
Measurements from Edwardes' board were sent to the Department of Primary Industries to confirm the size and species of shark.
This is not the first negative shark interaction Edwardes has faced. In 1999 he lost a friend to a suspected shark attack.
Edwardes and two friends had been windsurfing at Hardwicke Bay in South Australia when he and one of the men headed toward shore. His friend Tony Donoghue stayed in the water and disappeared. The 22-year-old man's body was never found, but pieces of his wetsuit, which had bite marks from a suspected great white, were recovered.
There have been a total of 10 shark attack bites (8 with injury, 3 of which are considered provoked*) publicly reported and verified in 2019.
One fatal**; Three were reported in the U.S (including zero fatal), with 1 occurring in Florida and 1 in Hawaii. Three have been reported in Australia, zero fatal. Three unconfirmed bites, worldwide, not included in the total count.
All locations have been marked on the 2019 Shark Attack Map.
*Provoked defined as spearfishing, feeding sharks, fishing, etc. (listed with green marker).
**Zero possible scavenge
Vessel: 1
Australia Breakdown:
Western Australia: 1 (0 no injury), Fatal: 0, Unconfirmed: 0.
Northern Territory: 1 (1 provoked), Fatal: 0, Unconfirmed 0.
Queensland: 0 (0 provoked), Fatal: 0, Unconfirmed 2.
New South Wales: 2 (1 no injury), Fatal: 0, Unconfirmed 0.
South Australia: 0, Fatal: 0, Unconfirmed 0.
Victoria: 0 (0 no injury), Fatal: 0, Unconfirmed 0.