Updated: June 13, 2018 Mr. Denges reportedly believes he was injured by his surfboard fin.
A surfer in Hawaii is recovering from an apparent shark bite he received June 9.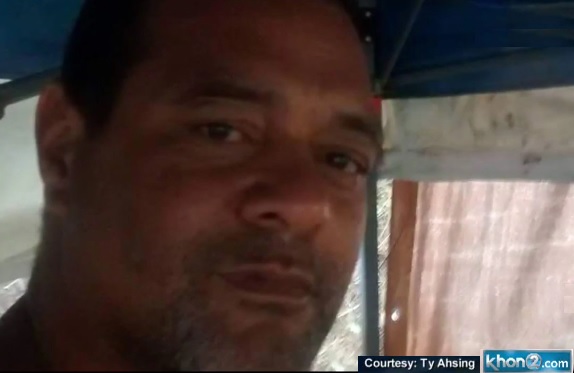 John "Raps" Denges had borrowed a friend's board to go surfing at Oneula Beach, O'ahu. Around 7:45 a.m. a shark was said to have injured the 48-year-old's left calf.
Denges, who may be houseless, was able to paddle back toward shore and was met by a friend.

A friend saw "the blood behind him, and then he ran down to see what was going on and that's when he seen the big cut on (John's) leg," Rebecca Taylor told KHOn2 after speaking to a witness. "When he looked at the back of the leg, you could see the bone and that the meat was hanging so it was a bad bite."
"John said it was a shark and I asked (his friend) Papa Nom if it was a big shark and he said it was a medium size one," she said.
Other witnesses on scene reported they understood a tiger shark was responsible for the bite.
"We just pulled up on the spot and saw the ambulance getting the guy out of the water," surfer Dan Florenco told Hawaii News Now. "It looked like it was pretty bad."
Denges was transported to the hospital in serious condition.
Update: Mr. Denges reportedly believes he was injured by his surfboard fin.
There have been two other shark bites reported in the Island this year.
Dylan McWilliams was bitten by a tiger shark off Kauai April 19.
"I was in about 15 feet of water and it was pretty clear," he said via email. "It just hit me while I was getting on my board."
At first, the Colorado native panicked as he was uncertain if the estimated 6- to 7-foot long tiger shark severed his leg or if it would return to his location. He was able to swim around 30 yards back to shore and shout for help.
A good Samaritan helped dress the wound and he now has the unique distinction of not only surviving a shark bite, but also withstanding both a black bear attack last July, as well as a rattlesnake attack several years earlier.
A much more serious event occurred on the Island of Hawaii March 31 when an unidentified man had his leg severed by a shark.
The 25-year-old was boarding with his father when the shark struck, knocking both men into the water. The son was bitten on the leg and sustained injuries to his right hand, most likely from trying to fight the shark.
There have been a total of 43 shark attack bites (31 with injury, 6 of which are considered provoked*) publicly reported in 2018. One fatal**; 7 were reported in the U.S., with 3 occurring in Florida and 2 in Hawaii. Fourteen have been reported in Australia, none fatal. Four unconfirmed bites, worldwide, not included in the total count.
All locations have been marked on the 2018 Shark Attack Bites Tracking Map.
*Provoked defined as spearfishing, feeding sharks, fishing, etc. (listed with green marker).
**One possible scavenge