Dylan Reddering was surfing in Plettenberg, South Africa when he was bitten by a great white shark June 26.
The 23-year-old was off Look Out Beach around 5 p.m. when a shark came from underneath and bit the right side of the surfer's body (sensitive image).
Reddering was able to kick and punch the shark, but became stuck in a current as he tried to paddle back to shore. According to the National Sea Rescue Institute NSRI fellow surfers Lloyd Chapman, Adriaan Augustyn, Wotjeck Orzechowski and his son Tadj. assisted Reddering from the water.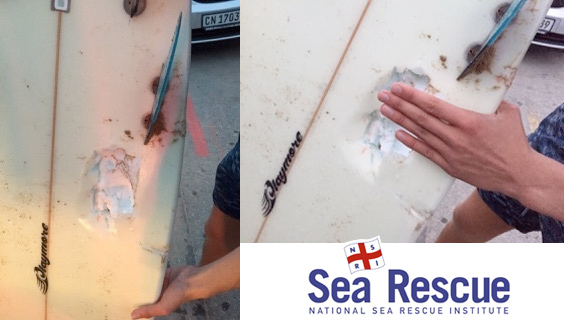 "Plettenberg Bay Medi-Clinic were alerted that a patient suffering shark bite trauma was being rushed to hospital aboard a Baycare ambulance and Dylan was carried aboard a surf-board to the Look Out Beach parking area where he was loaded into a Baycare ambulance and transported to hospital with medical care continuing en route to hospital.
Link to graphic image of the wound
"Once in hospital, medical staff continued with treatment and it appears that the bites have missed major organs and missed major arteries and the patient requires sutures….
"The species of shark has not been determined although it is suspected to be a 2 to 3 meter white shark. White sharks are common to the area." the NSRI said in a statement.
Reddering had lacerations and bite marks on his body near the ribs, on his buttocks and on his leg.
In a strange turn of events, Dylan is actually the son of Marty Reddering, who is a veteran NSRI Plettenberg Bay volunteer crewman.  Marty had responded to an emergency call only to find out that his son was the victim.
Marty said that Dylan was doing well and would be back surging as soon he was well enough.
The location has been marked on the 2015 shark attack bites tracking map.