A surfer was bitten by a shark in Brazil January 12.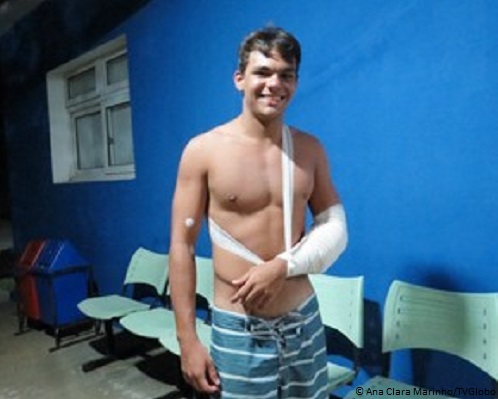 Ricardo Ferrari Bulhoes was visiting the islands of Fernando de Noronha located around 220 miles off the Brazilian coast. He was surfing at Conceicao Beach in the late afternoon when he fell into the water and felt something pulling and generating pressure on his left arm.
The 20-year-old said it didn't hurt, but he was bleeding, and was able to make it back to shore. A local tour guide saw his wound and took him to Hospital Sao Lucas for treatment.
Bulhoes received 15 stitches to close several lacerations on his forearm.
Local shark expert Leo Veras said he believes the wound is defensive as the boy fell onto the shark, and the bite was minor.
He suggested the shark species may have been a lemon shark or possibly a small tiger shark.
Bulhoes was scheduled to return home January 15, and should have no major medical issues with the wound.
Another bite at the same location made national headlines last year.
A 35-year-old female was bitten on the hand in February after she picked up a small sharkling from the surf.
The woman, only identified as J.B.M, reportedly wanted to take a photo with the shark, but instead had to fight to remove it from her fingers.
Eventually, with the help of a partner, she was able to remove the shark and tossed it back into the sea.
She received around four stitches for the wound and hefty fine.
The area is a marine sanctuary and both the woman and her husband were reported to have been fined $3,200 each for molesting the shark.
There have been a total of 3 shark attack bites* in 2018, 0 of which were fatal*; 0 were reported in the US, with 0 occurring in Florida and 0 in Hawaii. Two have been reported in Australia*, none of which was fatal.
All locations have been marked on the 2018 Shark Attack Bites Tracking Map.
*One with no injury.