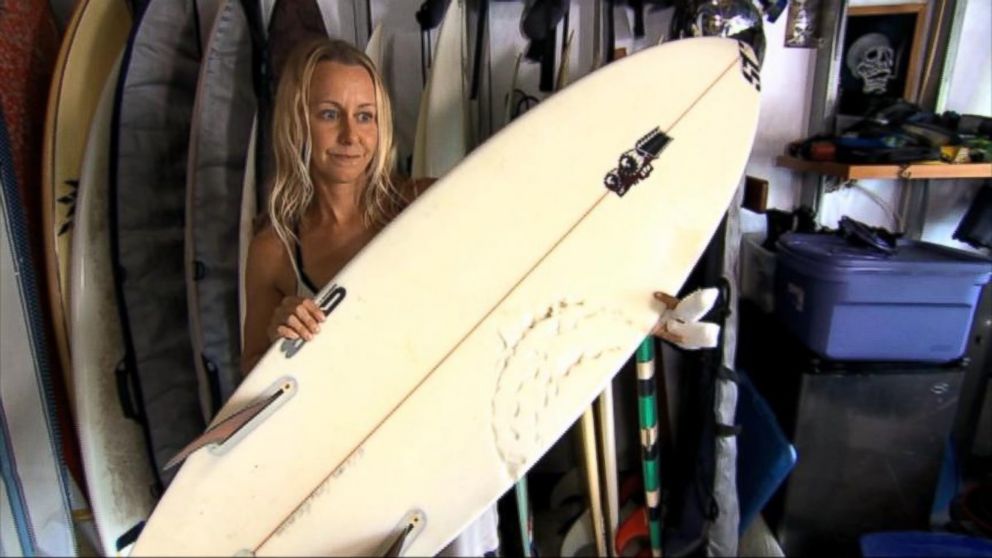 Brian Wargo and McKenzie Clark were doing some Halloween surfing off Halaula Lighthouse in North Kohala when they ran into a shark.
"The waves were nice, four to five feet, beautiful sunny morning, good surfing weather — quite a few people were surfing when we got there," Wargo told ABC News.
As he was paddling out he heard Clark scream.
"She thought she hit a rock, "I looked over and saw her being lifted out of the water by a large shark — I saw the dorsal fin and I saw the tail, kicking really hard, and she was screaming — I could tell right away it was a large shark"
He estimated the shark was about 12 feet long.  Instinct kicked in and without hesitation he headed for his friend.
"She was being lifted out of the water, and screaming — she was being carried on the nose of the shark. I got closer — but then the shark turned and bit her again on her left hand," he said. "I saw her grab her hand and rip it out of the shark's mouth, then she fell off the back of her board."
The shark was now going after the board
Clark said  "At that point, his head was on my board and his jaws were chomping down.
Unfortunately Clark was still had the surfboard leash attached to her ankle as the shark started swimming off.
"She couldn't get the leash off her foot," he said. "I saw the shark coming at her again, I grabbed the dorsal of the shark. I started kicking at the shark and using my board — I started punching the shark. I felt like I was going to break my hand — but the shark shuddered, and then headed out to sea."
As the shark left, they climbed back on their boards and paddled back to shore.
Wargo called 911 and drove 25 miles to North Hawaii Community Hospital where she was treated and released.
"She was in shock, but she was tough about the whole thing and handled it like a champ."
Mrs. Clark was in good spirits and very thankful the only physical injury was minor.
"I don't think that this minor of an injury happens very often with this situation," said Clark. "Right now, I just feel really, really blessed and thankful that everyone's okay."
In the past week there have been three other shark related incidents.  One surfer protecting his children and two paddle boarders knocked off their boards. All of which were attributed to murky waters.
Location has been marked on the 2014 shark attack bites tracking map.