A Tasmanian woman was mauled by a shark in Queensland while swimming near a yacht.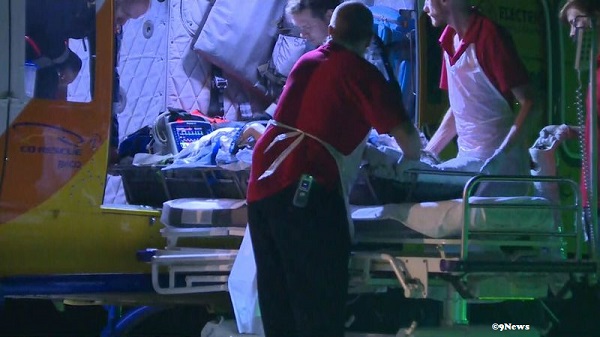 Justine Barwick, 46, was swimming at Cid Harbour off Whitsunday Island's Sawmill Bay around 5:00 p.m. September 19 when a shark grabbed her upper right leg.
She was pulled out of the water and onto a larger vessel which had a doctor on board.
"The shark had taken a huge chunk out of her inside leg and she was bleeding out," RACQ CQ Helicopter Rescue crewman Ben McCauley told ABC News.
"The people on scene who got her aboard that yacht and quickly packed her gaping wound to help stem the hemorrhaging undoubtedly saved her life," he added.
The rescue helicopter was dispatched to the scene and the woman was placed in a dingy so rescue personnel on Rescue Heli 412 could winch her up from the boat to the aircraft.
Barwick was transferred to Mackay Base Hospital. Following surgery, Barwick is currently is listed in critical condition.
"Given how serious her injuries were, and how far from shore and from medical help they were, without the rescue helicopter I don't think she would have made it back to the mainland alive," McCauley said. "She really was incredibly lucky."
Updated: A second shark attack occurred in the same area the following day.  A 12-year-old girl was bitten while swimming.
There have been two other shark attacks reported in Queensland this year.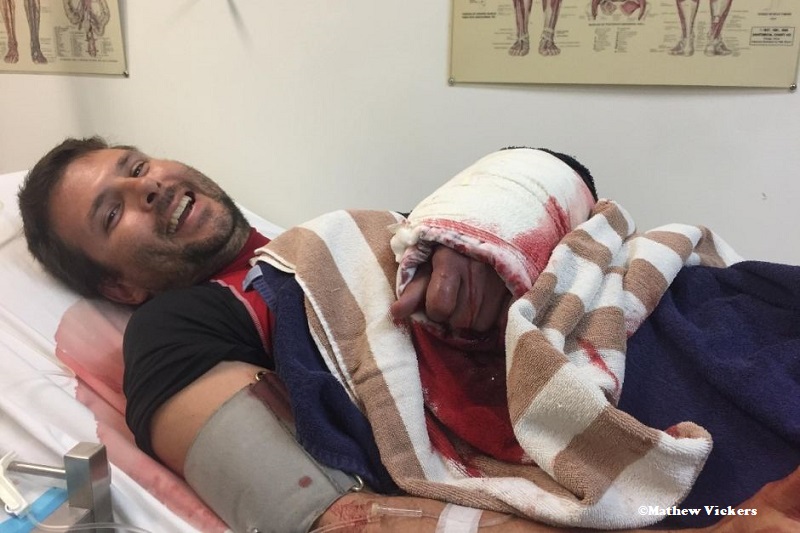 Mathew Vickers was bitten on the Great Barrier Reef January 14.
Vickers was volunteering with James Cook University (JCU) researching the recovery rate of coral after a bleaching event on the reef.
The group was 37 to 49 miles off Lizard Island in Queensland snorkeling in an approved area.
Around 3 p.m. as the group was feeding red bass and cod, a bass took a bit of food and swam past Vickers, who believes the fish was using him as shelter.
"It all happened very quickly. Out of the corner of my eye a grey flash. A blur, really, and a 2m (6.56 ft) grey reef shark slammed into me," Vickers posted on GoFundMe.
He was able to put his dominant left arm up to protect his face (Graphic Image).
"A quick hit. A big hit. Really hard, maybe like being hit by a car. But underwater. A moment of confusion and disbelief," he said adding, "I pulled back, and the shark pulled back, and then I was surrounded by blood and fatty tissue floating in the water column."
He lifted his arm (Graphic Image) out of the water. "My hand curled involuntarily into a ball and I felt the tendons pull up into my arm; all my extensor tendons were severed. I managed to swim over and climb into the boat, and not drop the video camera I was holding in my right hand."
Vickers sounded the alarm, warning others to exit the water and then surveyed his injury. "I looked at my arm, where a 40x5cm chunk had been ripped out, flapping open, bleeding, pulsing and twitching."
A tourniquet was applied, and the boat was headed back to Lizard Island within seven minutes.
His journey was quite harrowing and took over 4 hours to receive proper medical care.
The second bite occurred at Carins Aquarium May 24, when a diver feeding sharks was bitten on the hand.
There have been a total of 72 shark attack bites (50 with injury, 14 of which are considered provoked*) publicly reported and verified in 2018. Three fatal**; 27 were reported in the U.S (including one fatal), with 10 occurring in Florida and 3 in Hawaii. Sixteen have been reported in Australia, none fatal. Eight unconfirmed bites, worldwide, not included in the total count.
All locations have been marked on the 2018 Shark Attack Bites Tracking Map.
*Provoked defined as spearfishing, feeding sharks, fishing, etc. (listed with green marker).
**One possible scavenge