A teen was bitten by a shark while swimming off Daytona Beach, Florida on April 3.
Kody Stephens was with a friend in chest-deep water when he felt something bite his foot.
"I told my friend that I had felt something bite me, and we got out of the water and (my foot) was bleeding," the 16-year-old told 11Alive. "We went up and washed it and the hotel called 911. They showed up and looked at it."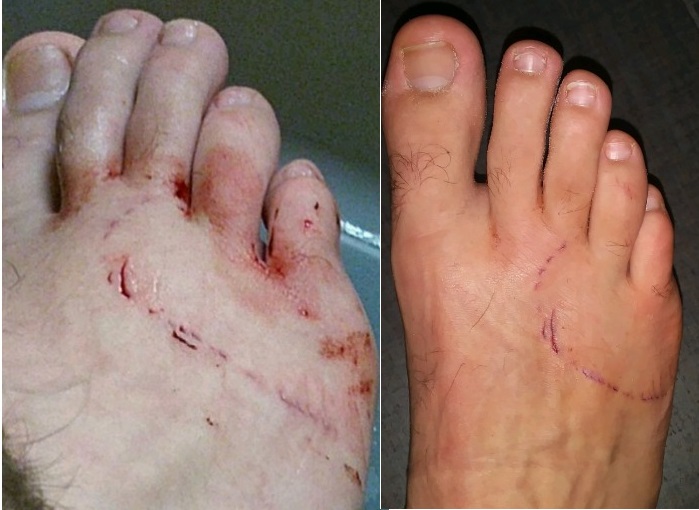 The teen, who is visiting from Georgia, had a half-moon shaped bite on his right foot.
He said the medics told him it was a shark bite and that it could have been much worse.
"They said it could have been a small hammerhead because they burrow near there sometimes, but a small one," he added.
The wound appeared to be minor and Stephens shouldn't have any lasting physical effects, although he also said he would be more cautious on his next beach visit.
This is the fourth shark attack bite reported during the last two weeks in Florida.
Robert Nesbit was bitten on the foot while surfing off at New Smyrna Beach March 27.
Caitlyn Taylor was bitten April 2 and had to fight a shark in a rare encounter in the Panhandle.  The 17-year-old was on the second sand bar when a shark grabbed her. She was able to punch the shark and make it back into shore.  Apparently, her athletic build prevented the shark from doing major damage.
On April 4, Melanie Lawson received a minor injury after she was bitten on the thigh while swimming New Smyrna Beach.
There have been a total of 22 shark attack bites in 2017, 1 of which was fatal; 8 were reported in the US, all of which occurred in Florida.  Six were reported in Australia, none of which were fatal.
All locations have been marked on the 2017 shark attack bites tracking map.