A surfboarding teen was nipped by a shark in Victoria, Australia March 9.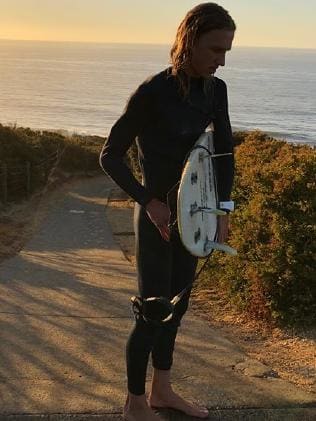 Lachie Brown, 18, was sitting on his surfboard around 7:30 a.m. at Winkipop on the Jan Juc side of Bells Beach when an estimated 6- to 8-foot long shark popped up.
"It came up beside me when I was sitting out there, and I saw it right at my ankle. Its whole body was alongside so I was just slapping at it," Brown told 9News.
The bronze whaler bit Brown's left ankle and tore a small hole in the surfer's wetsuit.
"It was pretty scary because when I was paddling in, it kept moving around me," he said.
As he paddled in, other surfers saw the shark as it followed Brown.
"We saw the shark trailing Lachie as he was paddling to shore prone on his surfboard, his leg trailing," witness James Weight told Global Shark Attack File Investigator Bob Myatt.

Brown's thick wetsuit appeared to take the brunt of the force, and he ended up with a small scuff on his ankle.
Hours later, another encounter
Later in the day a second shark encounter was reported about 20 miles south on Lorne Beach.
Robert Crossland was on his daily swim when an estimated 11-foot long shark began thrashing in the water.

Related: Spearfisherman chased by great white in California
The shark circled the 69-year-old man six or seven times. Crossland gave the shark a jab to its nose when it came too close. Fortunately, he made it back to shore uninjured.
A similar situation occurred in the same location last year.
Marcel Brundler had been hitting the waves August 29 off Cathedral Rock near Lorne.
The 37-year-old was talking to his surfing partner as they floated 10 to 15 meters offshore in the water, when an estimated 10-foot long shark popped out of the water.
He made the decision to stay calm and watch the shark as it circled him. He said the shark looked at him as it turned around and bit.
Brundler was wearing a thick wetsuit along with a vest as protection against cold waters. The suit also provided a barrier between the shark's teeth and the surfer's skin.
He began punching the shark on its head until it let go.  There was blood on his board and he thought the shark may have cut itself on the fiberglass board.
The shark continued to circle until Brundler caught what he called the best wave of his life and rode to safety.
While his board had several large teeth marks, the Swiss national received only a minor scratch on his back.
There have been a total of 12 shark attack bites* in 2018, 0 of which were fatal**; 0 were reported in the US, with 0 occurring in Florida and 0 in Hawaii. Six have been reported in Australia, none of which was fatal. One unconfirmed worldwide and not included in the total count.
All locations have been marked on the 2018 Shark Attack Bites Tracking Map.
*Four with no injury
**one possible scavenge