A teenager was bitten by a shark in Florida on December 27.
Zack Davis was enjoying the waves near Avalon Beach State Park on North Hutchinson Island when he was bitten on the arm.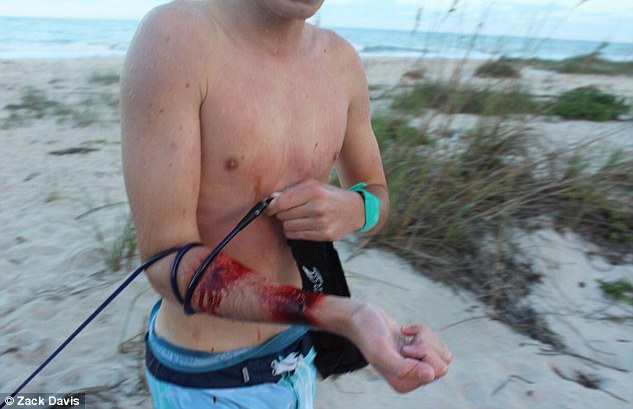 "It didn't look bad; there weren't any baitfish or anything," Davis told CBS 12. "I felt it hit because my hand was on the sand and I was getting turned by the wave, and it held on for less than three seconds. I didn't even have a chance to hit him or anything.
"It was shocking, it wasn't really painful," Zack added about the attack. "Honestly, I wasn't really in pain. I came up out of the water and was like, I just got bit, oh my gosh, I need to do something with this quick. So I took my leash from my board and wrapped it around my arm. I got out of the water as quickly as possible because I didn't want to get hit again."
The 16-year-old went to the hospital where he received 44 stitches to the wound that may have been caused by a black tip shark.
Mr. Davis case has caused a media storm, mainly because the surfer was wearing a shark repelling device manufactured by a company called SharkBanz.
"I got this (the Shark Band) for Christmas," Davis explained. "It was supposed to keep sharks away, and the first time I wore it, I got bit."
SharkBanz released a statement in regard to the incident:
"We're in the process of gathering all known facts about the encounter from the victim. It's important for us to assess all the information regarding the circumstances in order to understand the shark's behavior, what ultimately caused the bite, and whether it was preventable. We're relieved to see that Zack is already patched up and out of the hospital with plans to return to the water as soon as he's able.
"What happened here is essentially the rarest of shark encounters, where Zack jumped off his board and pretty much landed on the shark. If anything, [SharkBanz] probably helped clear the shark out of the area quicker," SharkBanz co-founder Nathan Garrison added.
Sharks are known to react when provoked. If Davis did land on or near the shark, then it could definitely be cause for a reaction bite.
In March of 2016, Rafael Hermes Thomas jumped into the shallow waters off Estalerio beach in Brazil and landed on or near a shark. The 41-year-old received a large laceration to his head from a sand tiger shark pup.
There have been a total of 100 shark attack bites in 2016, 8 of which were fatal; 44 were reported in the US with 32 occurring in Florida. Twenty-four have occurred in Australia, three of which were fatal.
All locations are marked on the 2016 shark attack bites tracking map.