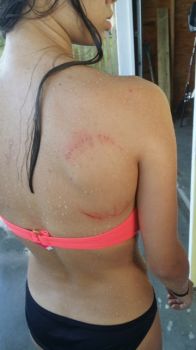 Mikaela Amezaga was in waist deep water cooling off when she felt a bump on her right shoulder.  After returning to shore and telling her family,  they noticed blood dripping from a wound.  After seeing her family's reaction, the teen began to cry.  The in the Isla Del Sol community on the west end of Galveston Island.  The 14yo did not have to get stitches and was treated on seen by a physician who had been visiting with the family.
Her father Daniel Amezaga told Chron  "I couldn't believe it.  It could have been a leg or arm. It definitely could have been worse. We have a smaller child, and there were a bunch of kids there."
The bite was not reported to the Galveston Island Beach Patrol. Mr. Amezaga said "We see sharks all the time, usually, they're after fish – not people." Especially in the canals.
The incident took place 6/7/14 Click to see all 2014 shark attack and bites.