Three shark attacks were reported in Florida over the weekend, with two attacks occurring several minutes apart in waters off the same northern Florida beach.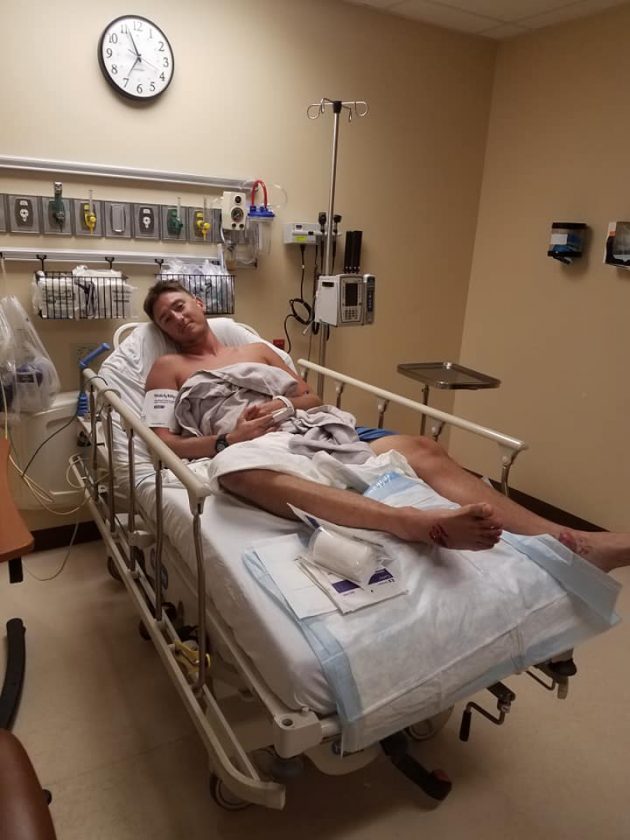 Dustin Theobald was helping his son Emerson catch waves off Fernandina Beach just before 3:30 p.m. July 13. "It was a west wind, so it was kind of hot out, you know all the wind coming off the land instead of the water," he told Tracking Sharks by phone. "I got back in the water to push him [Emerson] on some waves."
The 30-year-old was floating on his stomach in around 2 feet of water as he watched Emerson ride a wave around 25- to 30-yards into the beach.
"I was just lying there watching him paddle back out and I felt something grab onto my foot.
"At first, all I felt was pressure, I didn't feel any real pain. I just felt something grab me.
"I reached back and put my hand down where my foot was, and I palmed his [the shark's] head. I put my hand over where his eyes are, and he shook twice, once left then right.
"After my hand hit his head, he let go and I instantly knew it was over right then," said Theobald, who works as a handyman.
He was worried about his son and other beachgoers in the water with the estimated 4-foot long shark in the vicinity.
"I got up on my feet and I was motioning to people to move in to shore, saying 'I got bit, I got bit,' and they were looking at me like I was crazy at first. I told my son go back, go back, go back, get out, get out.
"Once I got out of the water I saw all the blood and stuff from my foot and the people who were like 'umm I don't know if this guy is for real or what, once they saw the blood, they really started hustling out of the water."
Theobald notified a lifeguard who hurried to assist him and then a second lifeguard rushed to assist. Amazingly, the second lifeguard was Theobald's friend's younger sister.
Emmerson ran to get a towel as the lifeguards loaded his father in a rescue vehicle and transported him from the beach to an ambulance. He was transported to the local hospital for treatment of his wounds before being transported to Jacksonville.
"The bottom of my foot has a clean laceration. The top of the foot, you could tell it was like serrated teeth. They shredded the top, hit a couple of tendons at least the top of them. I don't think it broke through any of the tendons, from what I could tell, but it definitely did a lot of damage to them. I was definitely fortunate.
"The EMT who measured the wound said it was 4 inches on the top and 4 inches on the bottom. It had my whole foot in its mouth. Well half of my foot in its mouth."
Theobald is having surgery the evening of July 16 and will need several months to recuperate. His brother has set up a GoFundMe (Graphic Image) to help with his medical bills.
The incident hasn't won't keep him or his son out of the water. "We know they [the sharks] are out there, we're out there. It's one in a million thing.
"Nothing is going to change with me. I'm sure I'll be little more cautions. I'm sure I'll think about it. I know it'll be something that sticks with me. As far as deterring me from things, I don't think it's going to.
"I've lived at the beach my whole life. Anything can happen no matter what you're doing—soccer, baseball, football—you can get hurt doing anything.
"This is one of the dangers we know about surfing. We don't fall on concrete, we fall on sharks."
While Theobald was in the ambulance he heard a call about a second shark bite on the same beach.
A 17-year-old was wading when he was bitten on the foot by a shark. Authorities raised double-red flags and closed the beach until further notice.
A third shark attack bite occurred July 14 about three hours south at Playalinda Beach in Canaveral National Seashore.
A 14-year-old female was airlifted to the hospital after being bitten.
There have been a total of 52 shark attack bites (39 with injury, 8 of which are considered provoked*) publicly reported in 2018. Two fatal**; 15 were reported in the U.S., with 7 occurring in Florida and 2 in Hawaii. Fifteen have been reported in Australia, none fatal. Five unconfirmed bites, worldwide, not included in the total count.
All locations have been marked on the 2018 Shark Attack Bites Tracking Map.
*Provoked defined as spearfishing, feeding sharks, fishing, etc. (listed with green marker).
**One possible scavenge
Photos courtesy of Dustin Theobald