Three people in Florida received shark bites over the holiday weekend.
The first bite occurred May 25 near the 200 block north at Daytona Beach. An unidentified 12-year-old was standing in waist-deep water around 2 p.m. when he was bitten on the foot.
As a precaution, he was transported to Halifax Health Medical Center for treatment of the minor wound.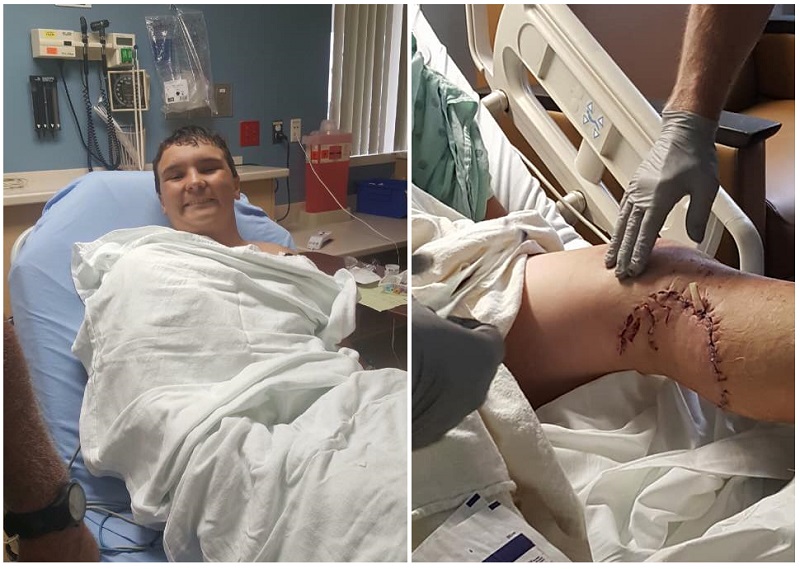 A more serious bite occurred at Coco Beach around 5 p.m. Cody High was playing with his family in water when a shark grabbed his leg.
"I was about knee-deep when he got me, and I was walking back. I didn't see him at all," the 15-year-old told Fox 35.
High thought his brother, who likes to pull pranks, had grabbed his left leg (Graphic image).
"It just felt like a hand squeezing as hard as possible. My older brother—he likes pranking me a lot, and it really felt like he just grabbed me with his hand."
The shark, thought to be a bull, swam away after tearing the teen's calf muscle; it was then High realized it wasn't a prank.
"I saw blood everywhere, and I just knew something bad had happened. People were crying, my mom was probably by far one of the more petrified ones. She was screaming, 'Oh my God! What happened?'" he said.
Brevard County Fire Rescue took High, who is visiting from San Angelo, Texas, to Cape Canaveral Hospital. After evaluation, he was transferred to the Arnold Palmer Hospital for Children where surgery was performed.
"Finally, a gifted surgeon, Dr. Levi, stitched up Cody's leg. The doctor said there were too many stitches to count. Cody is resting and recovering but hopes to still enjoy Disney World," Cody's cousin Janice Hotz posted on GoFundMe.
"Please contribute to this Go Fund Me page to help with the various medical costs associated with this horrific encounter with the Bull Shark. Cody will need extensive rehab. At this time, it is not known if he will need other surgical procedures. All the funds will go toward medical costs," she added.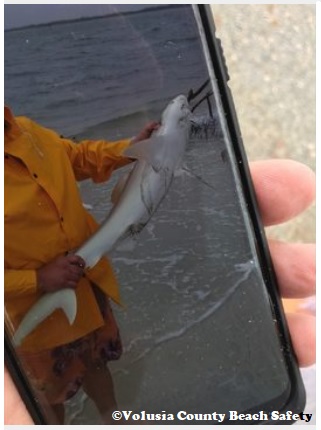 The third shark bite occurred at Ponce Inlet on May 27.
An identified Mount Dora man was fishing at Lighthouse Point Park when he reeled in a 3-foot lemon shark around 10 a.m. As the man released the shark, it swam around and bit the man on his foot.
The man had a minor injury and did not need medical attention and the shark swam away.
There have been a total of 39 shark attack bites (28 with injury, 5 of which are considered provoked*) in 2018. None were fatal**; 6 were reported in the U.S., with 3 occurring in Florida and 2 in Hawaii. Fourteen have been reported in Australia, none fatal. Four unconfirmed bites, worldwide, not included in the total count.
All locations have been marked on the 2018 Shark Attack Bites Tracking Map.
*Provoked defined as spearfishing, feeding sharks, fishing, etc.
*Eight with no injury
**One possible scavenge