Two British tourist were attack by a shark in Queensland, Australia.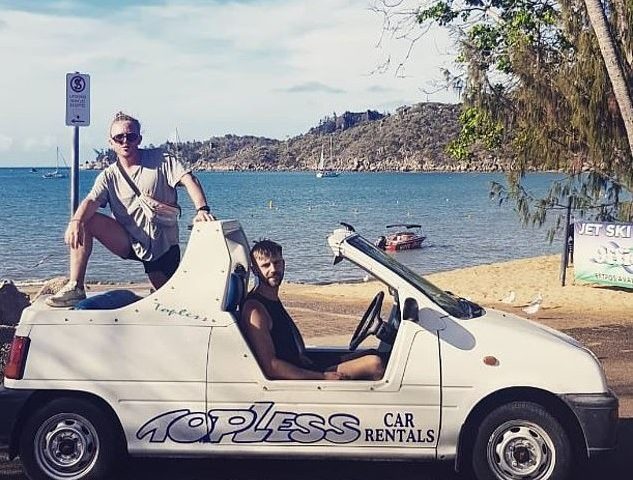 Backpackers Alistair Raddon, 28, and Danny Maggs, 22, were on a snorkeling excursion Oct. 29 with ZigZag Whitsundays.
Their group was in Hook Passage, about 18 miles (30 km) from the Airlie Beach harbor in Whitsunday, when the men entered the water.
Around 10:30 a.m. the duo were wrestling and thrashing around in the water when a shark attacked.
"One of the male patients was attacked first and the shark is believed to have returned and come back and attacked the second patient," said Tracey Eastwick, operations manager for Queensland Ambulance Service.
Reports indicate Raddon's right foot was severed, and Maggs had lacerations on his thighs and leg.
The injured men were brought back on board the tour boat where they were treated by two Swedish passengers who were also paramedics. Eastwick said the two backpackers onboard administered "extremely important" first aid to the injured men.
The group headed to Airlie Beach where Raddon and Maggs were airlifted by RACQ CQ Rescue in stable condition to Mackay Base Hospital in central Queensland.
According to a media release by the tour group from Tourism Whitsundays and Whitsunday Regional Council in a Facebook post: "Our first thoughts are with the two people involved in the incident and their welfare, as well as the other passengers and crew on the boat. On board the vessel were two passengers who are paramedics and provided immediate first aid.
"Immediate counselling support was arranged for the passengers and crew, their welfare is also our priority. We would also like to commend the lightning response of our first responders and emergency services.
"Their efforts have ensured the two people have been able to receive expert medical treatment very quickly.
"Queensland Ambulance Service have advised that both people are in a serious but stable condition, with non-life-threatening injuries. Our priority and focus now is ensuring the welfare of these two people and until we receive accurate and detailed information regarding the incident, we are unable to make any further comment."
A GoFundMe has been set up for the duo to help with medical bills.
The location is about 10 miles north of where a fatal shark attack and two other attacks occurred within one day of each other last year.
Justine Barwick, 46, was swimming off Cid Harbour off Whitsunday Island's Sawmill Bay Sept. 19, 2018. was swimming off Cid Harbour off Whitsunday Island's Sawmill Bay Sept. 19, 2018. Around 5 p.m. a tiger shark grabbed her upper right leg. She was pulled from the water and onto a vessel that had a doctor onboard. She was treated on scene before being transported by air to the hospital.
The following day, Hannah Papps, 12, was with her sister and father off Cid harbor when she was bitten on the upper leg near the groin area around 1 p.m.. She was taken to the hospital where her leg was eventually amputated.
In response to the attacks, drumlines were temporarily set by the government. A few months later Dr. Daniel Christidis died after being attacked by a shark in the same area.
Dr. Christidis, 33, and a group of friends chartered a boat to relax in Cid Harbour Nov. 5. He had been sharing a paddleboard with a friend when he jumped in the water to let the friend on. He was bitten on his left thigh, right calf and had injuries to his left wrist.
He was treated on scene by off duty doctors and nurses before being picked up by helicopter. Unfortunately, he later succumbed to the wounds.
Due to the remote location of the recent shark attacks, it seems unlikely drum lines would be deployed
There have been a total of 87 shark attack bites (78 with injury, 23 of which are considered provoked*) publicly reported and verified in 2019.
All locations have been marked on the 2019 Shark Attack map.
Five fatal** 48 were reported in the U.S. (including one fatal), with 26 occurring in Florida (5 provoked), 14 in Hawaii (4 provoked,1 fatal, 3 no injury) and 3 in California (2 no injury).
Fourteen have been reported in Australia (0 fatal).
Shark attacks by location in Australia:
Western Australia: 2 (1 no injury, 0 provoked), Fatal: 0, Unconfirmed: 0.
Northern Territory: 2 (0 no injury, 2 provoked), Fatal: 0, Unconfirmed 0.
Queensland: 8 (1 no injury, 0 provoked), Fatal: 0, Unconfirmed 2.
New South Wales: 5 (2 no injury, 1 provoked), Fatal: 0, Unconfirmed 0.
South Australia: 0 (0 no injury, 0 provoked), Fatal: 0, Unconfirmed 0.
Victoria: 0 (0 no injury, 0 provoked)), Fatal: 0, Unconfirmed 0.