Two men have been detained in the death of whale shark in China.
Photographs of the dead whale shark were posted on social media last Saturday. The shark was being hoisted by a crane reportedly at the Beihai market south of the Guangxi province.
Many Chinese citizens were outraged as just two days before, photos were posted of a live whale shark on China's Twitter like platform Sina Weibo. The photographs were taken by oil rig workers near Weizhou Island. The shark had been called an "old friend" by some social media users as whale sharks are seen migrating through the area in May of each year.
Outrageous: rare whale shark seen at offshore oilfield in SW China's Beihai was killed just hours after it was found pic.twitter.com/1dt5xpS0o0

— People's Daily,China (@PDChina) May 8, 2016
The two men detained by Guangxi police were apparently involved in the purchase and resale of the shark. According to The Standard whale sharks are a Class-B protected species in China and "a suspect surnamed Liao bought the 370-kilogram shark for two yuan per kilo Saturday and sold it to another surnamed Huang for 5 yuan per kilo."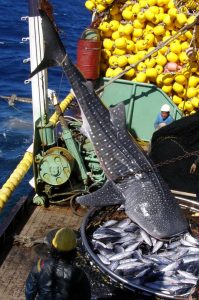 Mr. Huang is thought to have made fertilizer from the shark which he then sold. The BBC reports both men are being held on suspicion of "illegal acquisition of rare or endangered animal" and could face imprisonment of up to 10 years if convicted.
The search is ongoing for the person or persons who originally caught the shark. The BBC also reported that the city's fishery chief Chen Quanbiao was being investigated by the Beihai municipal committee of the Communist Party for corruption. However, it is unknown if this was due to the killing of the whale shark.
Unfortunately, this is not the first issue with whale sharks being killed in China.  In August of last year a video taken in Guangdong, China showed a live whale shark being butchered by two men at a fish market.  The video, which is extremely graphic, showed the shark attempting to breathe as it was cut into to section.
Wildlife Risk reported in 2014 that "The world's largest slaughtering facility for whale sharks" had been discovered near Wenzhou, China.  The open air factory was "reportedly slaughtering over 600 whale sharks annually to produce shark oil for health supplements."
The group obtained undercover audio and video recordings that indicated the sharks were caught in the South China Sea as the migrated.  In addition, they found that both great white and basking sharks were also being processed at the Pu Qi factory and that "products derived from these protected species are being exported to the United States, Canada and Italy, in contravention of the internationally-binding CITES agreement."