Two surfers were bitten by sharks in Western Australia April 16.
The first man bitten around 8 a.m. off a beach known as Cobblestones, located south of Gracetown.
Alejandro Travaglini's was surfing when a suspected great white shark bit and released his leg.
"This thing was a big shark, and it wanted to eat him," surfer Adam Kennedy, who was in the water at the time, told The West Australian.
The shark returned a second time and grabbed Travaglini's legs and drug him underwater.
"He was literally fighting for his life. He was yelling and punching, and he was on the back of this thing. It went for him, three or four times," Kennedy added.
Originally from Argentina, Travaglini, 37, was able to fight off the shark before catching a small wave and bodysurfing to shore.
RELATED: What you can do to help prevent a shark attack
His friends used a surfboard leash as a tourniquet and administered first aid on the beach. Around six minutes later, emergency crews from Margaret River arrived on the scene.
Travaglini was flown to Royal Perth Hospital and is currently listed in stable condition.
"I just want to thank all the legends who helped me at the beach," Travaglini said in a statement.
Just before the bite occurred, a 13-foot great white shark was spotted in the water. It may have been drawn to the area by a whale carcass also seen in the water.
A second shark bite occurred about one and a half miles down the beach.
Later in the day Fisheries officers, who were monitoring the area for great white sharks, warned surfers that they were in danger.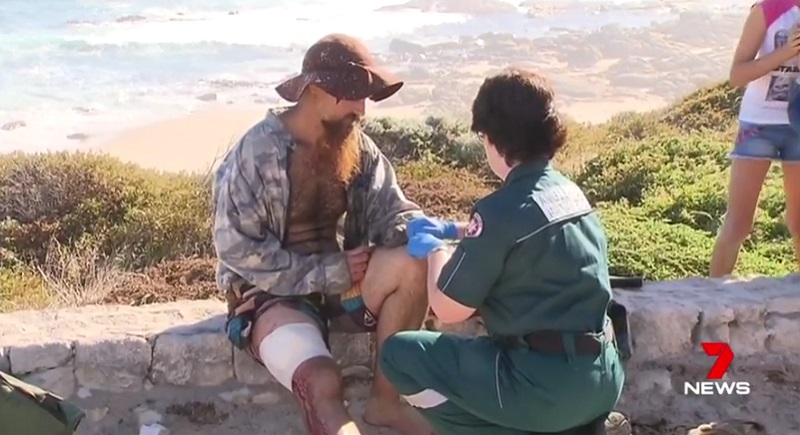 Justin Longrass missed the warning and was "having a ball" without other surfers to compete for waves. However, the 41-year-old and his red surfboard drew the attention of the shark.
"It [the shark] was just heading straight for me, bee-lining straight at me and I went to slap the water, but then he made a sudden acceleration and just nailed the board," he told reporters.
"I knew straight away 'don't kick your legs, just swim'."
He sustained injuries to his left thigh and was treated by paramedics on the beach.
Authorities have issued a Section 44 closure notice shutting down the beaches around the area of the attacks.
One other shark bite has been reported in Gracetown this year.
A surfer, who was only identified as Justin, had a small chunk bitten out of his foot.
Justin made it back to the beach and was treated by an off-duty nurse before being transported to Margaret River Hospital.
The species of shark involved has not been identified but is thought to have been a wobbegong or small copper shark.
There have been a total of 18 shark attack bites* in 2018, 0 of which were fatal**; 1 was reported in the US, with 0 occurring in Florida and 1 in Hawaii. Nine have been reported in Australia, none of which was fatal.
All locations have been marked on the 2018 Shark Attack Bites Tracking Map.
Two unconfirmed worldwide and not included in the total count.
*Four with no injury
**one possible scavenge