A newly posted video shows the moment a bull shark charges a diver near the Great Barrier Reef.
Danny Henricks was on an annual spearfishing trip on a channel in the northern most tip of Queensland when he encountered an aggressive bull shark.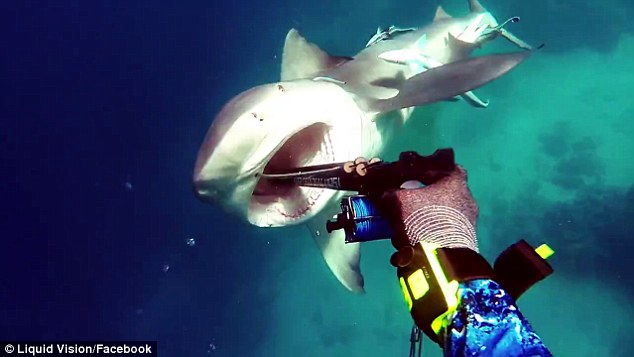 The 35-year-old had just swum away from the group when he spotted the shark.
Henricks, an experienced spear fisherman, has seen sharks before. Often a shark will sneak in and snatch a freshly-caught fish off the line. However, this encounter was different.
Henricks watched the shark as it began its approach, thinking it was only in investigation mode.
He pointed his gun toward the shark to give it a poke in case it came to close.
However, once the shark was about 20-feet (6m) away, it charged.

The bull shark swam at full speed as it closed in on Henricks. It opened its mouth when it approached, and quickly impaled itself directly onto Henricks' speargun. The shark hit with such force that it ripped the speargun out of Daniel's hand.
Henricks immediately began swimming backward to distance himself from the shark. At this point, the bull shark was in serious trouble and was writhing around. Because the spear had penetrated inside its mouth, the shark began sinking.
Henricks continued to swim away thinking the shark would spit out the gun. At that point, he had not realized the speargun was now impaled. A few seconds later, he left the scene and abandoned the speargun.
Danny Henricks has released an interview about the incident.
There have been a total of 2 shark attack bites in 2017, none were fatal; 1 was reported in the US, with 1 occurring in Florida. One occurred in Australia, none were fatal. One reported with no injury and one attack bite unconfirmed.
All locations have been marked on the 2017 shark attack bites tracking map.