A Malaysian scuba diver nearly lost his head to a massive tiger shark while vacationing on Fiji Island in May.
Steven Sim was diving the Cathedral Dive site on May 17 at Beqa Lagoon, Beqa Lagoon Resort, with 12 others.
As part of a shark-encounter dive, dive customers were directed to lay in the prone position on a rocky alcove with their feet toward safety divers who would watch for sharks approaching from behind.
A large metal box of fish and chum was lowered in front of the group at the bottom of a small enclave to attract sharks. A large female tiger shark that one witness described as 13- to 15-feet long, was lured into the area.
The shark cruised above and behind the customers lying on the ocean bottom. A safety diver tried to guide the shark away from the group using a long pole, but the massive tiger was not dissuaded and began biting Sim's tank.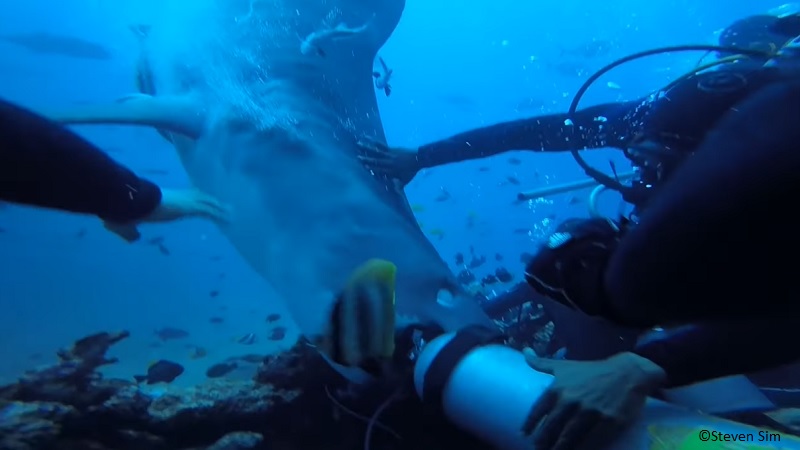 At this point, several safety divers swarmed in to assist as the shark bit down several times. Eventually they were able to push the shark away. Thankfully, the majority of the shark's teeth landed on the Sim's tank valve.
"His head was in the shark's mouth, and later the dive master managed to kick her away," a close friend of the diver told The Fiji Times. "While the shark was leaving, the victim's mask and hoodie were pulled off."
Sim was taken to a medical clinic/hospital where his wounds were treated. His friend said Sim was left with a 3-inch long (8cm) laceration on his head.
His friend also reported the resort dive staff left them alone, waiting at the medical facility for two hours before arranging to return them to the resort.
Sim's friend said they sought help from the Malaysian Embassy in Fiji which assisted them in contacting the resort manager. It took five days for the Beqa Lagoon Resort to issue an apology.
"The WORST accident/resort management; if you going to this resort please pray for no any unlucky event happen to you or your member," Sims wrote on YouTube. Shark tourism is a blossoming enterprise. It can be good for sharks, in that they are more valuable alive than dead, and good for local economies, which benefit directly from tourist dollars, and good for the divers, who get to see the predators up close. However, sharks are apex predators and, as with any viewing of a wild animal, things can go wrong.
The location has been added to the 2019 Shark Attack Map.