A great white shark warns two jet skiers and chases them away off the coast of Fraser Island in Southern Queensland, Australia.
Libby Williams was riding with her husband when they spotted the shark swimming in shallow water and decided to take a closer look at it. As they approached the shark, it quickly changed course and bit at the personal water craft.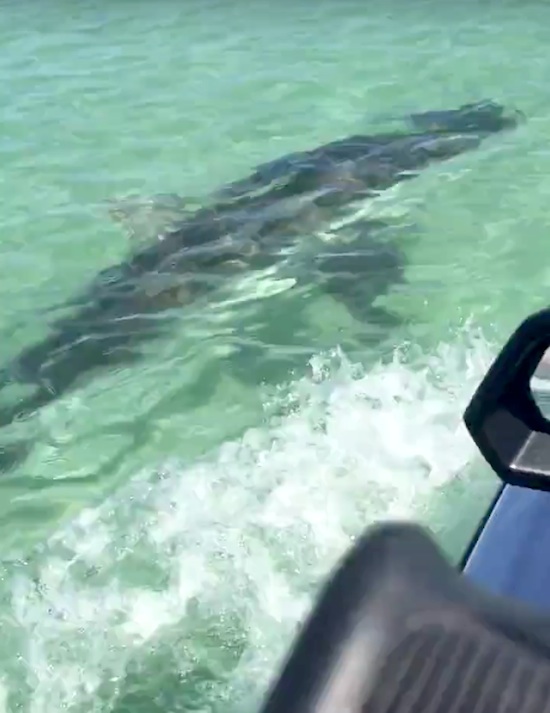 "I literally had to move my leg so it didn't get mauled!" Williams added in a caption of the Facebook Video she posted April 2. No one was injured, but the ski apparently had some marks left on it by the shark. She said she believed the shark to be a 6-foot bronze whaler.

Dr. Daryl McPhee, a shark expert from Bond University, believes the shark was actually a great white.
"They are not always aggressive, but just like a lot of people, I guess it thought the jet ski was annoying," he told ABC.
Great whites are known to frequent the area, and Dr. McPhee doesn't believe the shark thought Williams was food.
"I don't think it thought they were lunch. I think it was the shark being annoyed and it telling the source of annoyance to go away," he added.
The Bond University also published a video of Dr. McPhee speaking about the increase in shark attacks and bites that were highlighted in 2015.
McPhee suggested the high number of shark attacks and bites in 2015 was not only because there were more people in the water, but there were also more food sources available for sharks, including an increasing seal population which draws sharks closer to the shore.
Dr. McPhee also noted "there is no completely conclusive evidence that (an) unprovoked shark bite is mitigated by shark control activities such as shark culling, shark drumlines and shark nets."