Updated October 23
A whale watcher lost her both her hands and a breast to a shark in Polynesia.
A woman, identified as Emmanuelle B., was with a group that included two firefighters and nurse who were off Opunohu Bay, in Mo'orea-Maiao, a French Polynesia island, Oct. 21.
Apparently, the group couldn't find any large whales although they saw a pod of pilot whales and followed them around the outside of the lagoon
Around 10:30 a.m. a shark, identified as an Oceanic whitetip, struck the tourist who was at the back of the group.
The 35-year-old woman fought the shark which left her with left severe chest injuries and severed both her hands at the forearms.
"Fortunately for her, there were two nurses on site and they were able to give her first aid. When we got to the hotel's pier, she was conscious, but in a vital emergency: she had lost a lot of blood, she had both hands cut off from her forearms, and her left breast was torn off, "Jean-Jacques Riveta a firefighter who aided the badly injured woman.
She was treated on scene for 20 minutes before being taken to Mo'orea Hospital in Afareaitu. She was then transported by helicopter to Ta'aone Hospital in Tahiti where she was listed in critical condition.
Oceanic whitetip sharks are known to prefer deeper water, but have been known to come to the shallows.
In 2018, one diver was killed, and two divers were bitten by Oceanic whitetip sharks in Egypt; two of the incidents were captured on video.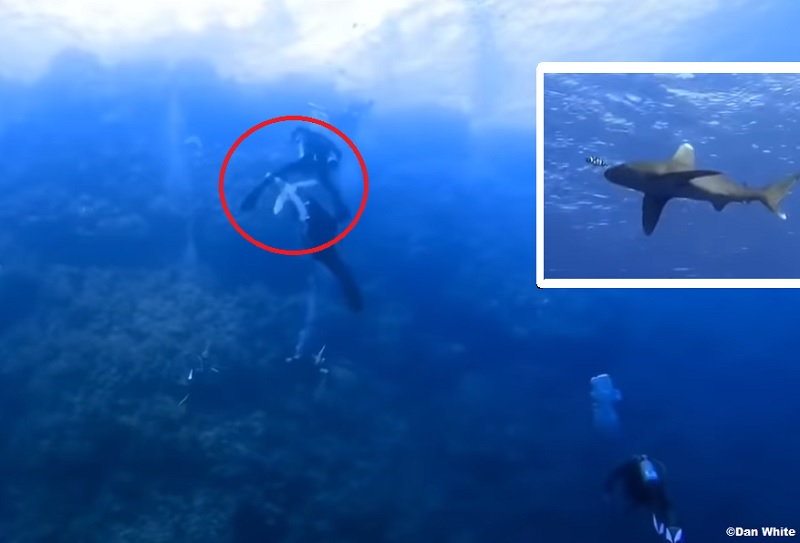 Dan White was diving in The Brothers Egypt Nov. 3, 2018 when a whitetip began swimming around the large group of divers.
"I was recording the whitetip as I thought it was a cool encounter," White told Tracking Sharks. "The day before we dove with three whitetips with no trouble at all."
The shark made several passes and bumped White's friend Ian, who fended off each bump, before it grabbed a passing diver's leg.
Alexander Kraenkl was diving the same location in June 2018 when he turned his back on a shark. The shark grabbed Kraenkl's inner right thigh and left a nasty wound.
Petr Blesk, 42, was killed by a suspected whitetip shark. The father of one jumped off the Calimera Habiba beach pier and swam a short distance away when a shadow was spotted in the water. He began swimming furiously back to the pier but disappeared under the water. His remains were later found at Marsa Alam Beach.
Should a swimmer or diver see a shark in the water, it is best to face it and slowly exit the water. If the shark attacks, fight back. Try to gouge the eyes and gill areas because sharks are not use to prey fighting back.
There have been a total of 84 shark attack bites (75 with injury, 22 of which are considered provoked*) publicly reported and verified in 2019.
All locations have been marked on the 2019 Shark Attack Map.
Five fatal**; 47 were reported in the U.S. (including one fatal), with 25 occurring in Florida (4 provoked) 14 in Hawaii (3 no injury, 4 provoked, 1 fatal) and 3 in California (2 no injury). Fourteen have been reported in Australia, zero fatal. Four unconfirmed bites worldwide are not included in the total count.
*Provoked defined as spearfishing, feeding sharks, fishing, etc. (listed with green marker).
**Two possible scavenge
Updated October 23, 2019 with name of patient.