A surfer used his boxing skills to find off a great white shark.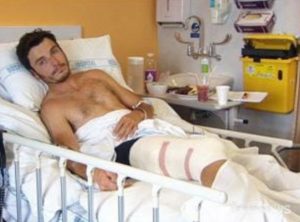 Darren Mills was enjoying the waves in Curio Bay, New Zealand February 7, 2014, when a shark attacked.
The shark grabbed Mills' right leg and Mill instinct kicked in and he  'punched and pushed' it.
"When the shark hit me it sort of pushed me out [of the water] and I realized what was going on and I could see it,"  Mills told The Daily Mail "I tried to punch it but it was more like a push."
The 28-year-old, suffered a serious bite wound to his right leg and "was pretty scared it was going to come back."
He made it back to shore and was treated on scene by an off-duty doctor and nurse until paramedics arrived.
'There's a puncture wound just below my knee, which might have gone, or has gone, through a tendon, and then there's four lacerations up my leg to the top of my thigh," he said
Fellow surfer Nick Smart witnessed the incident and saw Mills sitting on his board and the shark coming "up from nowhere and hit him."
Bite marks left on his board indicate a 9- foot shark, most likely a great white shark, was involved.
The approximate location has been marked on the 2014 shark attack map.