A woman has been bitten by a shark in Hawaii.
Lulu Bagnol, who is known by "Aunty Lulu", was seriously injured by a large shark off Makaha Beach September 7.
The 51-year-old was approximately 300 yards (274 m) off the beach when a tourist boat came into the area.
Bagnol had complained to authorities that the tourist boats often through food to attract sea turtles to the boat, which is illegal.
Around 2:30 p.m. she felt like she had been "tackled" and noticed hanging flesh from her arm and shoulder in the bloodied water.
She was able to stay calm as she signaled for help and attempted to swim back to shore.
Related: Shark bite victim Lulu Bagnol speaks out.
Lifeguards and surfers came to her aid and carried her back to shore on a longboard.
"She said she couldn't breath and she had a hard time breathing. So what was going through my mind was, I was kind of freaked out myself as I was paddling her in because everything was happening so fast and I didn't know how much blood she lost and so I was just, as much as I could, get her on my board and get her to the other rescue board," rescuer Danny Boro told Hawaii News Now.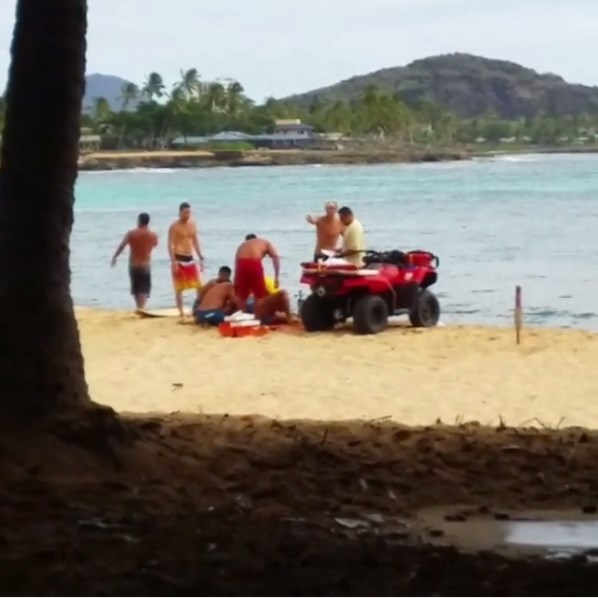 Paramedics transported the Makaha woman to a local trauma center and she is currently listed in serious condition.
As per local protocol, the beach has been closed and conditions will be reassessed before reopening.
The species of shark has not been identified. However, tiger sharks have been involved in several shark attacks bites in Hawaii throughout the years.
"As we got her on the big board, I was the last one out there by myself. I turned around I saw a big fin, I can honestly say it was like a 10-foot tiger shark…the fin was like about two and a half foot… so I think it was a 10-foot tiger shark," Boro said.
While this is the first bite reported in the Honolulu area of 2016, there have been three other shark bites in the Hawaiian Islands.
The last fatal shark attack in Hawaii was in 2015 when 65-year-old snorkeler Margaret Cruse was bitten by a tiger shark off Maui.
Worldwide, there have been a total of sixty-one shark attacks bites in 2016. Six of which were fatal. Twenty-eight reported in the US, with eighteen occurring in Florida. Eleven have occurred in Australia, three of which were fatal.
All locations have been marked on the 2016 shark attack bites tracking map.
Updated October 12, 2018.