Welcome to the Tracking Sharks Shark Shop.
Show your support for sharks by adding one or more of theses great shark stickers to your cooler, boat, car or suitcase. All prices are for U.S. based customers, but we don't discriminate. If you live outside of the United States, let us know and we will give you a special quote. Your shopping cart will appear at the bottom of the page and allow you to place your order using PayPal. Have questions? Message us on Facebook.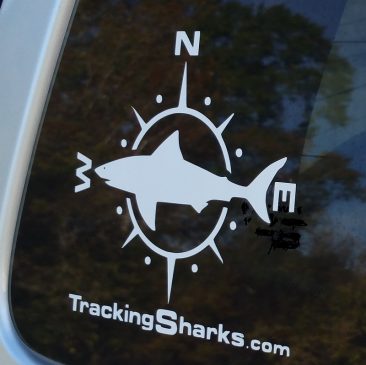 Tracking Sharks window decal
Support Tracking Sharks by sporting this great approx 5 x 4 decal.
$5.00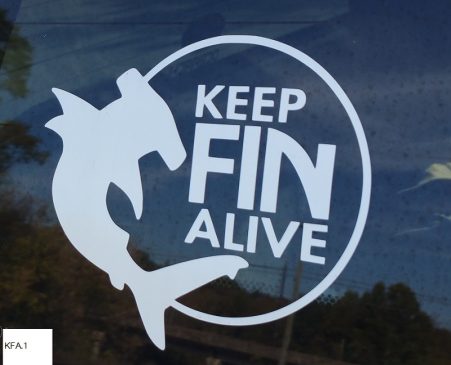 Keep Fin Alive window decal
Proceeds of Each Keep Fin Alive decal sold will be donated to the Keep Fin Alive campaign approx 5 x 4.
$5.00
Keep Fin Alive
(KFA) takes a light-hearted approach to help change the common misconception of sharks and drive more attention to the problems of ocean plastic pollution, shark overfishing and other threats to shark using a 'sandwich technique'… fun photo>real issue.
Shark Jaws (SG-1) window decal
Who doesn't love shark teeth?
$5.00
Applying your new decal.
Once you have found the perfect spot for your decal, clean the area thoroughly using alcohol or soap and water. Glass cleaner should be avoided as it tends to leave residue behind.
Place the decal on a hard surface and run a credit card or squeegee across the clear application tape several times. This will help keep all the detailed pieces in line and prevent air bubbles.
See how the decal lines up on the glass. You want to make sure that it will look level and won't obstruct your vision.
Slowly peel the clear applications tape from the baking at an angle. You want all the decal to stick to the clear tape. If any pieces stick to the backing, slowly replace and repeat step 2.
Once the entire sticker is clinging to the clear application tape, line up the decal with its new home. Slowly place the sticker onto the area. Sometimes the decal will pull towards glass due to static cling.
After you have placed the decal, gently rub the clear application tape with a credit card or squeegee. This will help the decal adhere to the glass.
It's best to wait 24 hours before removing the clear application tape. When you are ready, slowly pull the clear application tape from the decal at an angle. Watch to make sure all decal pieces are sticking to the glass. If not, slowly roll the application tape down and repeat step 6.
Enjoy your new decal and thank you for supporting sharks!