A shark bite has been reported in the Bahamas.
An unidentified female was snorkeling around noon near Rose Island when she was bitten on the foot by a shark June 27.
The woman, who is from Switzerland, was on a private snorkeling trip when the shark grabbed her and nearly severed her right foot. She is currently listed in stable condition.
Questions have been raised as to whether the charter boat had proper licensing and if, at the time, conch were being cleaned.
This is the second shark attack bite reported in the Bahamas this year.
Tiffany Johnson and her husband James were on the last stop of their 7-day cruise when they decided to go parasailing and snorkeling.
The couple found a local guide who took them with another couple to Athol Island, which is roughly two miles away from Rose Island.
Although James was feeling seasick during the 20-minute trip out to the reef, he was able to enjoy the water with his wife while they explored the area around a small private island.
When James started feeling queasy, he headed back to the boat.
"I just stayed out for a little bit longer because there was a part of the reef I hadn't seen yet," Tiffany explained.
Ten minutes later, the unthinkable happened to Tiffany, who is a healthcare project manager.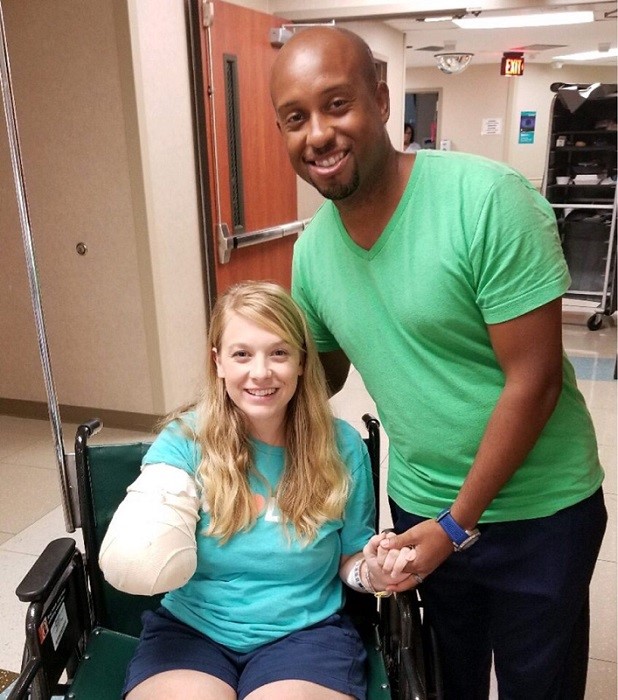 "I was just floating there for the most part. I wasn't moving my arms and legs very much, because I didn't want to disturb the fish," she said.
"I felt like a tug or bump on my arm. I honestly thought I had bumped into something, that's what it felt like," the mother of three recalled from her hospital bed.
The shark severed Tiffany's arm at the right elbow.
She was able to make it back to shore and was transported back the USA for treatment.
Tiffany credits God with saving her life and preventing the shark from taking her life.
There have been a total of 61* shark attack bites in 2017, 5 of which were fatal*; 28 were reported in the US, with 20 occurring in Florida** and one in Hawaii. Nine occurred in Australia, one of which was fatal and one with no injury.
Three unconfirmed worldwide and not included in the total count.
All locations have been marked on the2017 Shark Attack Bites Tracking Map.
*Two may be scavenge. **One report may have been outside of Florida waters.