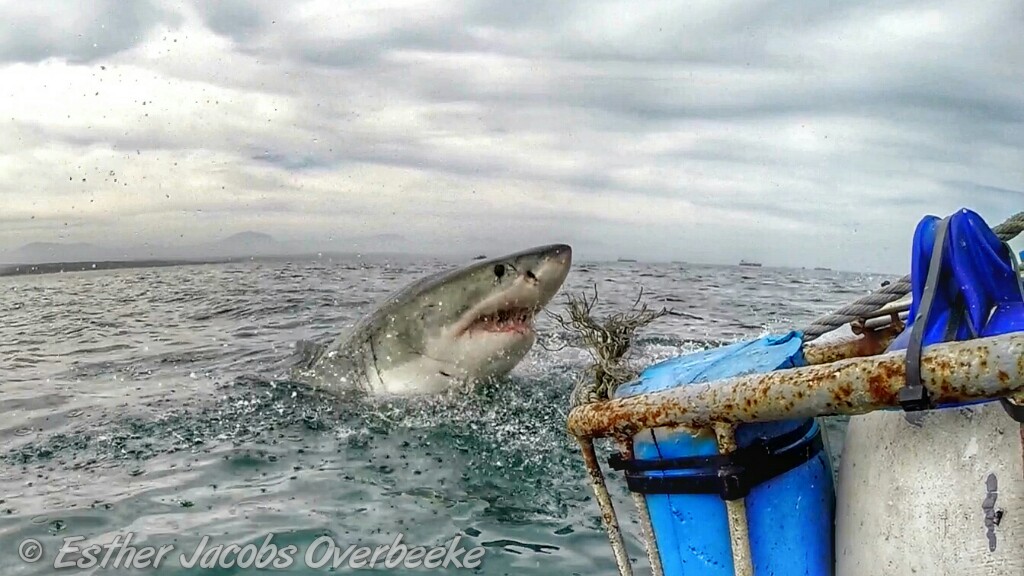 October 2015
Mossel Bay, South Africa
Fin and I have had a very busy month so far, and we're only one week in. The Great White Shark activity has been incredible and I've manged to capture some amazing footage. Not only was I lucky enough to witness an attempted predation on the first day of October, but I was then visited by the escapee seal when he used our boat as refuge. He even tried to swim into the cage at one point but couldn't get between the bars.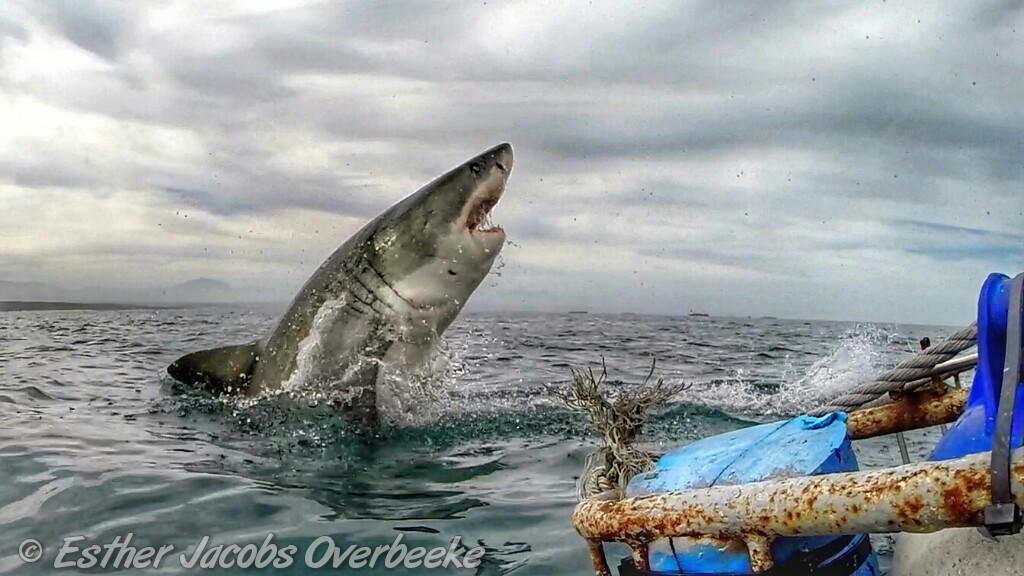 The white sharks around the White Shark Africa cage diving boat have been showing us and our clients a great time. There's been lots of breaching, plus plenty of curiosity shown towards the cage divers and my GoPro. It's made for some incredible footage, like the stills shown here. My personal favourite is having a young shark come close enough to be able to capture her blue iris. Most people believe a white shark's eye is black, but they are actually blue. I even filmed another shark that decided to high five my GoPro.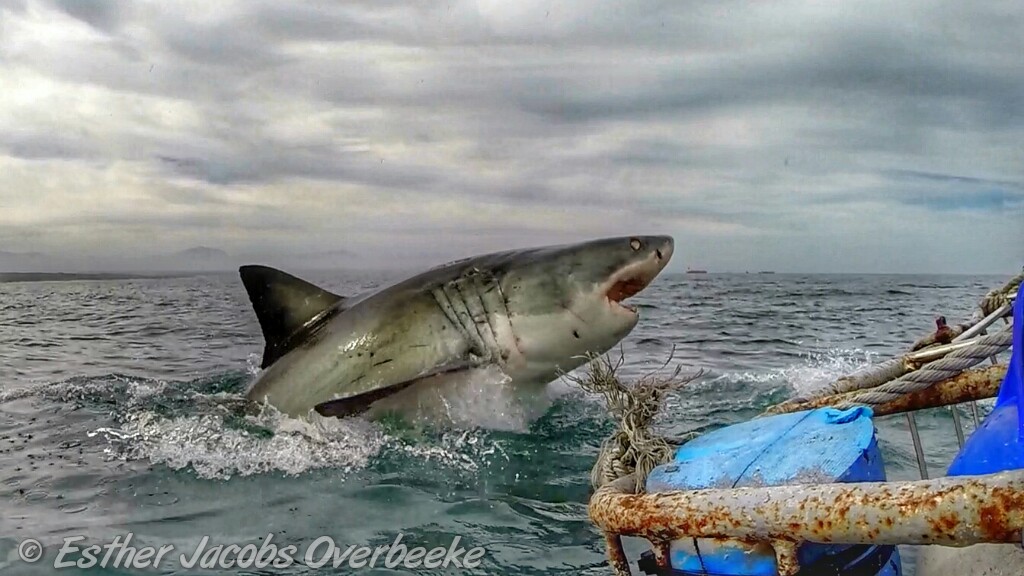 While I was busy capturing the underwater footage of these stunning sharks swimming by, one shark breached fully out of the water just a few meters away from me with no obvious target. It was possibly avoiding another shark, but unfortunately my GoPro was turned away from it so we'll never know for sure.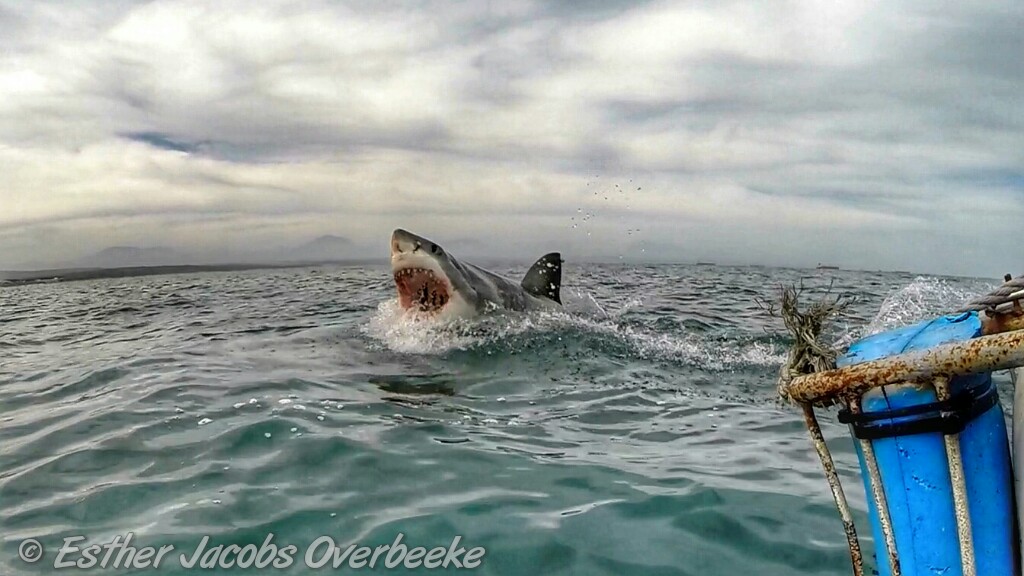 As well as amazing activity from the real sharks, Fin, the handpuppet shark, has been meeting lots of important South Africans this week to spread our Keep Fin Alive campaign message. We hit the airwaves over the weekend to talk about the aims of the campaign on a local radio station called Suidkaap FM and Fin had a photo shoot with the DJs plus Emo Adams, one of South Africa's biggest stars. He was also in a photo shoot with Algoa FM DJs, a popular national radio station.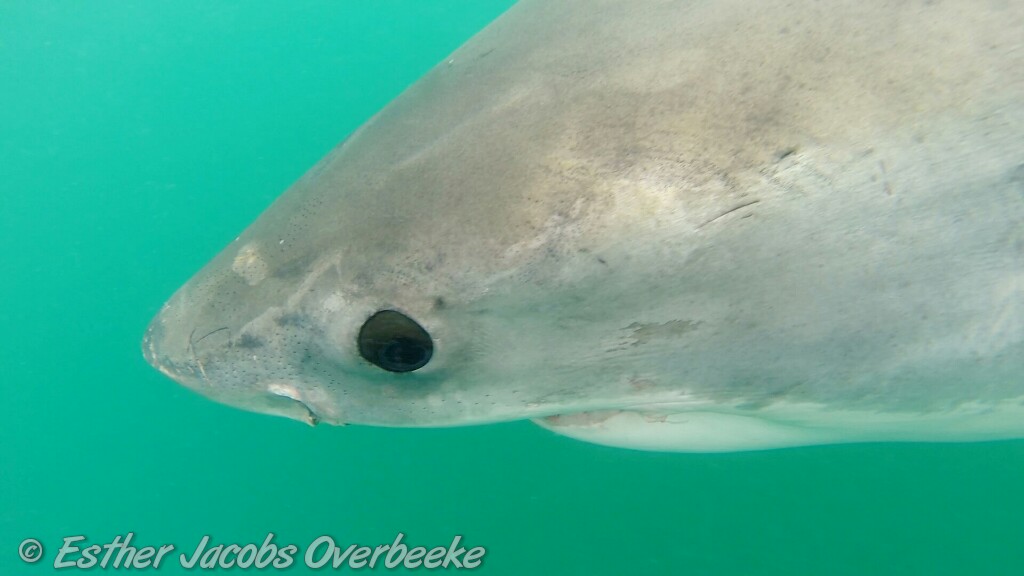 Very exciting news for me is that I have just been confirmed to head up a schools programme we're calling 'Mossel Bay Shark Week' where I'll be talking to all the schools in the area about sharks in back to back visits over a week, with an emphasis on the issues facing sharks and their importance to our oceans and planet.
Fin will be accompanying me to engage the kids in the Keep Fin Alive campaign, and I'll be running the programme as part of my ambassador role with Sarasota Fins, a shark education and conservation program aiming to mould a new generation of shark advocates.
Kids play a vital role in ensuring the future of our oceans and by engaging with them at an early age, they grow up knowing the impact of their actions and how to prevent sharks and other marine species from becoming extinct.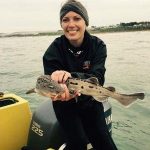 Cheers,
Esther Jacobs Overbeeke
Founder
Keep Fin Alive Campaign
Tel: +27 (0)7974 35 457
www.facebook.com/KeepFinAlive
www.twitter.com/FinHugger